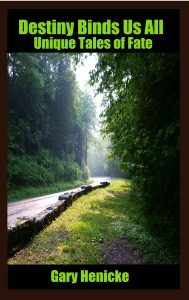 Author Gary W. Henicke is pleased to announce the release of his new short story collection, Destiny Binds Us All .
Destiny Binds Us All contains four short stories.  "The Therapist and the Panther", an exotic cat's owner is turned against her husband by a sadistic therapist. "Paul vs. Jack" is a novelette about an investment advisor's college-age daughter who falls in love with a homeless handyman twice her age. In the macabre short story of "Case of Fate" a retired detective seeks the help of a renowned psychiatrist to rid himself of the personal torment from two unsolved murder cases. And finally, "Mr. Barrow's Perfect Match" is a light-hearted short story of found love and love lost via the Internet.
Destiny Binds Us All  was released on June 25, 2012. It is available on Amazon.com, Barnes & Noble, Smashwords and other online booksellers.
"I am glad I read the book and recommend it to anyone, especially those who enjoy short stories." – Kay's Book Reviews