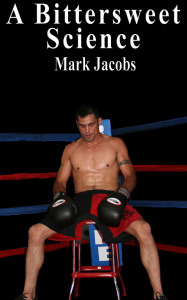 Author Mark Jacobs is pleased to announce the release of his new contemporary fiction book, A Bittersweet Science.
A Bittersweet Science offers an epic look into the world of big-time boxing from the perspectives of the many individuals who make up this frequently brutal, yet often entrancing sport. From the exploited fighters who bleed for pay to the scurrilous promoters and slick young television executives who make the backroom deals to the sardonic journalists who are there to record it all with a jaded eye. More than just a boxing story, A Bittersweet Science asks the profound question of whether the ends really do justify the means in a world without objective morality.
A Bittersweet Science was released on August 15, 2012 by St. Januarius Publishing. It is available on Amazon.com as an e-book, and will be free to download on Sunday, August 17th.