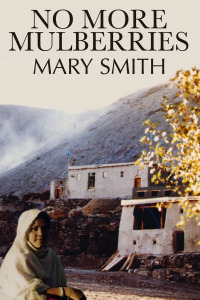 No More Mulberries
by Mary Smith
Genre: contemporary fiction
Word count: 94,000 (approx)
Set mainly in Afghanistan and spanning the years from the Soviet occupation to the rise of Taliban, No More Mulberries tells the story of Scottish-born midwife Miriam and her Afghan husband Dr Iqbal who work in a remote village in rural Afghanistan. Miriam is concerned about how her husband has changed towards her but doesn't understand why. She accepts a request to attend a medical teaching camp as a translator for the foreign doctors in attendance she ignores Iqbal's anger at her going against his wishes. She hopes time apart might help her to understand the cause of their problems.
When a figure from her past, Ismail, arrives at the camp Miriam undertakes a journey into her past. She realises she has never come to terms with the devastating loss of her first husband, who had been killed and sees how her own actions have damaged her relationship with Iqbal. She resolves to try to put things right between them but fears she may be too late.
No More Mulberries is about love, commitment and divided loyalties across a cultural divide. It also provides the reader with an authentic insight into how ordinary Afghan men and women live their lives against a backdrop of war.
This title is available from W H Smith,  Amazon US, Amazon UK, Smashwords, and Barnes and Noble.
Mary, how did you come up with the title for your book? Does it have any special meaning?
I tasted mulberries for the first time the day I arrived in Afghanistan after a horrendous road journey and loved them – as does Miriam, the central character. Mulberries are mentioned several times in the novel and provide a motif throughout.
Who was your favorite character and why?
I have to say Miriam, but also Iqbal. When I started writing I disliked him but as his back story unfolded and I understood him I liked him a lot. Can I be greedy and have another one? I think Ismail is lovely – think I quite fancy him, in fact.
Does your book have any underlying theme, message, or moral?
I want to show women in Afghanistan aren't all hapless victims, despite the many problems they face, and men are not all determined to repress women. I wanted to challenge the perspective the western media tends to present – and to do it while telling a gripping story.
What would/could a reader or reviewer say about your writing that shows they "get" you as an author?
I love it when readers tell me they feel they really got to know and care about the characters. I also love it when readers admit to having had their preconceived ideas about Afghanistan and its culture challenged – and when they say they felt they were really there.
Give us an excerpted quote from your favorite review of this book:
"… one of the most fascinating novels set in a country I knew little about.…an important book … which gives a voice to the interesting women of that remote area. This novel makes the reader care what happens to every character and leaves us the richer for having read it."
Where can people learn more about your writing?
My website is at www.marysmith.co.uk