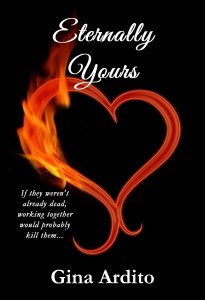 Author Gina Ardito is pleased to announce the release of her new paranormal romantic comedy, Eternally Yours.
Jodie Devlin's suicide is only the beginning of her troubles. Arriving in the next realm, Jodie must serve as a bounty hunter, retrieving souls who haunt Earth. She'll need smarts, charm, and trickery to convince specters to give up the ghost. These same skills will come in handy for dealing with her bull-headed, know-it-all trainer.
Luc Asante's wife ordered him taken off life support, condemning him to employment in the Afterlife. Now he has a trainee who's as soft-hearted as he is hard, as impulsive as he is methodical.
If they weren't already dead, working together would probably kill them.
Eternally Yours was released on June 25, 2012. It is available on Amazon.com, Barnes & Noble and Smashwords.