We all die. The goal isn`t to live forever, the goal is to create something that will.  – Chuck Palahnuik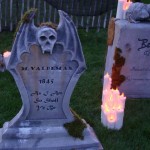 There is something very important that all humans share, and that is our mortality. Yes, my fellow oxygen suckers, no matter your wealth, talent, or monk-like existence, you will die. At a point in the perhaps not too distant future, we will all die. Expire. Cease to exist. Death is the ultimate equalizer.
I am not usually a morbid person, and I don't think about dying very much, unlike Woody Allen who obsesses over it. I have lost people close to me. This is always painful, no matter how you appear to be handling the loss on the surface. The cards, scraps of paper on which they wrote, and the faded photographs are mementos I have secretly hoarded, removing them from their hiding places from time to time and running my hand softly across the signature. It is at these private moments that I have wondered how I might be able to leave behind something of value that represents who I was in life.
As writers we are at an advantage in this department. We can write a memoir, story, poem or even a metaphorical obituary to express ourselves. We can leave a rich backlog of work that may make us famous after we die and provide for our loved ones for generations. But, what of those who have no talent or inclination to spend hours creating a comforting memento of a life well spent?
The age of mobile technology has provided a solution. Recently, I was reading a chapter in "The Mobile Wave" by Michael Saylor, Chairman and CEO of MicroStrategy, Inc. My public relations and social media representative suggested that I read the chapter entitled, "The Demise of Paper". It was fascinating reading, chronicling the written word and the means of information delivery starting with the humble mud tablet, the growth of libraries from the scriptorium to the private libraries of the rich, the current free lending institutions and finally, the Near Field Communication (NFC) technology that can use bar codes and tags to grab information faster than the Dewey Decimal System.
In Finland there is a town where nearly everything is tagged with a bar code. By waving your phone in front a poster, for example, you can get the details of the show you might want to attend at the local theatre that night. You can get the updates to the bus schedule by waving your phone in front of the bar code on a bus advertisement. I imagine this town in Finland with lots of happy people waving their phones and smiling at their friends doing the same smooth wave.
What does any of this have to do with your obituary and leaving a meaningful record of who you were for future generations? This technology has been adapted wherein you can have a barcode installed on your tombstone. The barcode links your physical marker to a "digital tombstone", and this is where the technology is brilliant. The choice of what the searcher finds is limited only to your creativity. It could be a video, an autobiography, a fond farewell of love and memories, or a stand-up comedy routine. You could pour a beer, sit back in an easy chair, and tell a crazy story from your youth.
Do you think this is morbid? I don't. I love to think of grandchildren having the ability to scan my tombstone and watch me make red sauce. So many stories, family history, and recipes are lost through the years. This technology could certainly provide a solution.
So go ahead and decide how you want to be remembered by recording or writing your own digital epitaph. Don't be afraid of facing death like my Uncle Joe, who once said, "Never check the organ donor box on your drivers license. The doctors will let you die so they can harvest your organs". We don't know when we will move to the next parallel, we may as well control what we can. And show a bit of style while doing it.