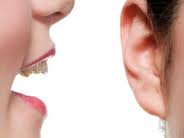 I have always been interested in the peculiarities of speech. The ways in which people pronounce or use certain words or phrases, their verbal tics and mannerisims, their accents—it all intrigues me.
We are often told that when writing dialogue, we should write the way people speak. This is supposed to lend authenticity to your dialogue and keep it from sounding stilted. A lot of authors address this by sprinkling in swear words, because "That's how people really talk." Okay…
That is sometimes true. More often, it is a shortcut for adding a sense of vehemence, urgency or drama to what the character is saying. One of the tools absent from the written word as a form of communicating a story is the tone of the speaker. When the character says, "Dude…" It could mean:
1. I am happy to see you;
2. I am proud of you;
3. That was cool;
4. I really can't believe you just did/said that;
5. I couldn't agree more;
6. She's really hot;
7. Please get off me;
8. Where are you; or
9. Calm down, this isn't what it looks like.
Obviously, that is not a comprehensive list. Spoken communication has power that written communication does not. Tone and inflection can convey meaning in a more succinct manner.
Inversely, writing can add clarity that is absent in typical verbal communication. When real people talk, they tend to be somewhat inarticulate. There are a lot of pauses punctuated with um…, er…, ah…or other such auditory space holders. While it is true you can write those in, they make for less compelling reading than if you leave them out, or use them sparsely. A character who stutters or stammers can be a chore for both the author and the reader.
In real life, we do not interact in neatly ordered rows of dialogue. We talk at the same time and we talk over each other. That is difficult to effectively render to the written page, and to the extent that it can be, does that make the writing seem more real? No.
Writing and reading do not actually involve speaking and listening. It is all imaginary, and when we imagine something, we imagine the perfect version of it. We filter out all the little flaws. That's why words of wisdom read, "A penny saved is a penny earned," and not, "A, um, penny—you know, saved and everything, is sort of like a penny earned, dude."
The object of writing dialogue is not to make it the way people talk, but rather to make it seem the way people talk. The reader's ear is tuned to the authenticity of the character's voice. The character's voice emanates from the words you choose for the character to speak.
By way of example, imagine these lines of dialogue:
"I had admonished Moran on several occasions, but he would not be dissuaded from his course of action. The St. Valentine's Day Massacre was of course a regrettable business, and I do wish it could have been otherwise resolved," said Al Capone.
"See, them fellers over there had a bunch of ships and we had us a bunch of ships, so we just laid right into 'em all fierce-like," said Lord Admiral Nelson.
"Yeah, right. Like I'm gonna just turn my gold over to you. What? You got brain damage or something chum?" said the leprechaun.
As you can (hopefully) see, even though each of these lines of dialogue conveys the essence of something the characters might actually say, they would not say it in those words. You get the idea. So here is a little exercise, if you'd like to play along: in the comment section, re-write the dialogue for each character in a more authentic voice.