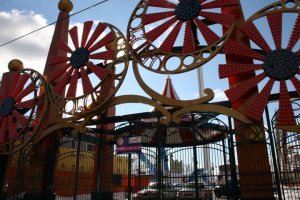 This is the place. This is where you and your friends always had the best time. You came here every summer as a kid.
Tell us your favorite memory. Did you sneak under a carnival tent to pet an elephant? Was it the year you saw the kid who always bullied you throwing up after a roller-coaster ride? Maybe a first kiss shared with someone special that time you got stuck at the top of the Ferris wheel? In 250 words or less, tell me a story incorporating the elements in the picture. The 250 word limit will be strictly enforced.
Please keep language and subject matter to a PG-13 level.
Use the comment section below to submit your entry. Entries will be accepted until 5:00 PM Pacific Time on Tuesday, August 28th 2012.
On Wednesday morning, we will open voting to the public with an online poll for the best writing entry accompanying the photo. Voting will be open until 5:00 PM Thursday.
On Friday morning, the winner will be recognized as we post the winning entry along with the picture as a feature. Best of luck to you all in your writing!
Entries only in the comment section. Other comments will be deleted.