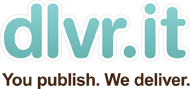 When you have a new blog post, how do you notify your followers on Twitter and Facebook? Initially I did it the old-fashioned way. I scheduled the blog post and shortly after it published, I'd manually tweet and share to Facebook. That worked unless I slept in that day (don't tell my boss) or was deep into a project for my day job and forgot (please do tell my boss).
However, my ideal situation was to be able to schedule a post and have a tweet and a post sharing the link on Facebook happen automatically. I found a plethora of ways to accomplish the tweet, but when it came to Facebook, I wasn't happy with any of the solutions. My main complaint was that none of the approaches I found gave a post with a picture. All of my blog posts start with a picture of a book cover or an author. Facebook posts with pictures, what you'd get as the default if sharing a link of the blog post manually, catch my attention much quicker than plain text.
I searched the net, trying to find a way to accomplish this, with very little success until I found dlvr.it. It gave me a way to set up automatic feeds to Twitter and Facebook, then forget about it. There is some advanced capability (for example statistics) and some premium services available, but today I'm going to walk you through a minimal setup, to do an automatic tweet and share to Facebook each time a blog post publishes. (Actually, the free plan has a delay of about 30 minutes after the RSS feed is delivered. If not acceptable, look at the premium services, to upgrade for quicker responses.)
First, go to dlvr.it where you'll see an initial login screen.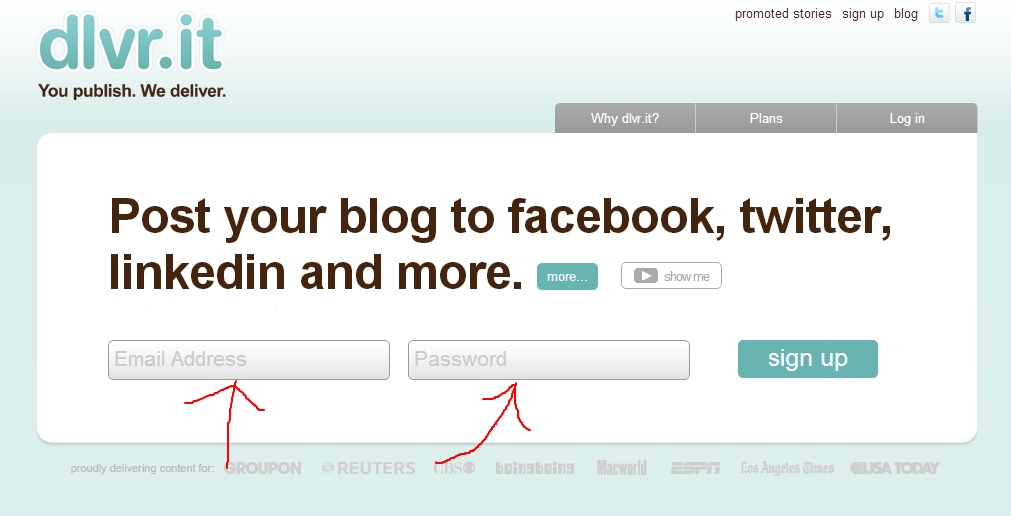 Enter your email address, a password, and click the sign up button. You'll get this screen. (I should note that your blog has to be setup to deliver an RSS feed. How to do that is beyond the scope of this tutorial and dependent on your blogging software.)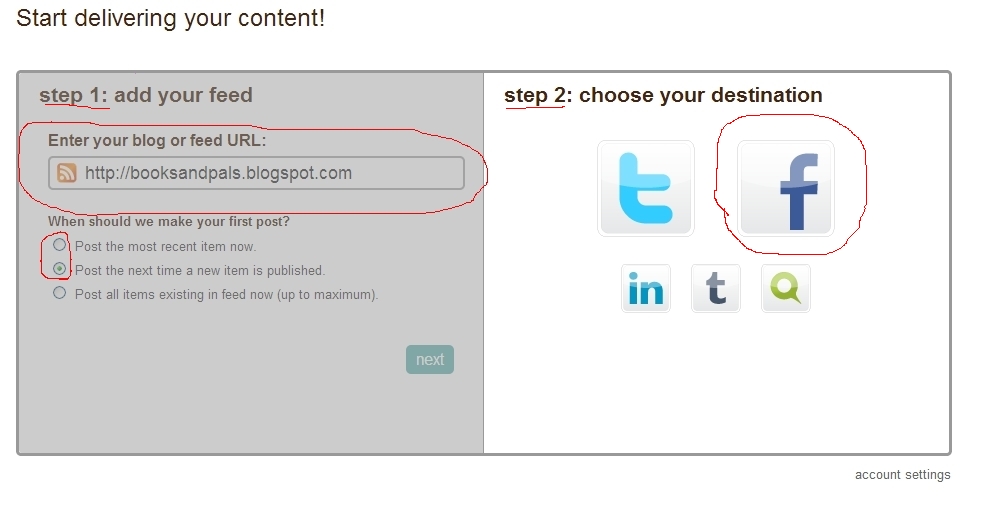 Enter the url of your blog or the url of its RSS feed. Pick one of the buttons for "When should we make your first post?" My advice is to pick either the most recent or the next post. Then click "next." Continue to step two by clicking the "f" icon for Facebook on the right side of the screen. If you aren't signed into Facebook, you may be asked to do so at this time.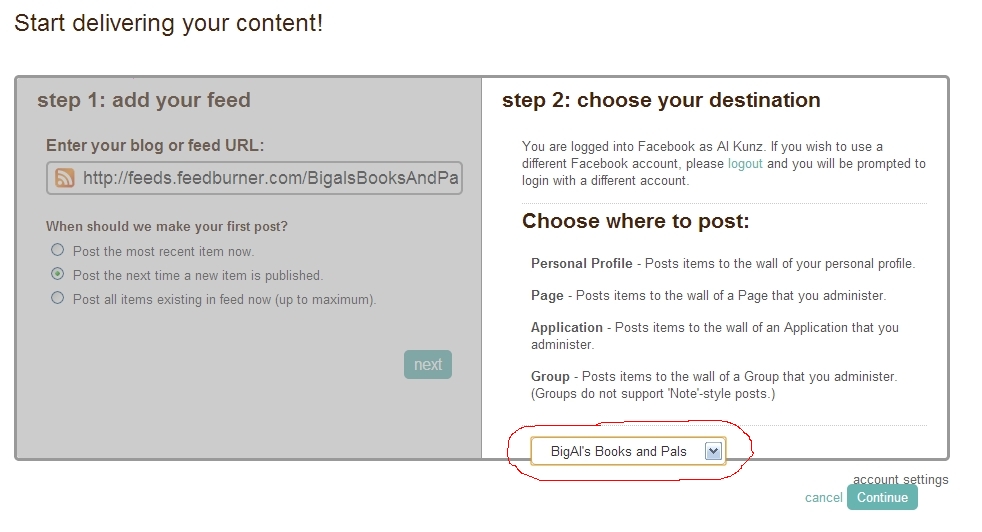 The right side of the screen will change and you'll have a drop down box listing your personal account, any pages you administer, any applications you administer, and any Facebook groups you belong to. Pick one of these and click "continue." (If you want to share blog posts to more than one of these, you'll be able to add additional destinations later.) I've chosen the page dedicated to my book review blog.
There may be a popup welcoming you to dlvr.it. Click "OK" and you'll see this screen.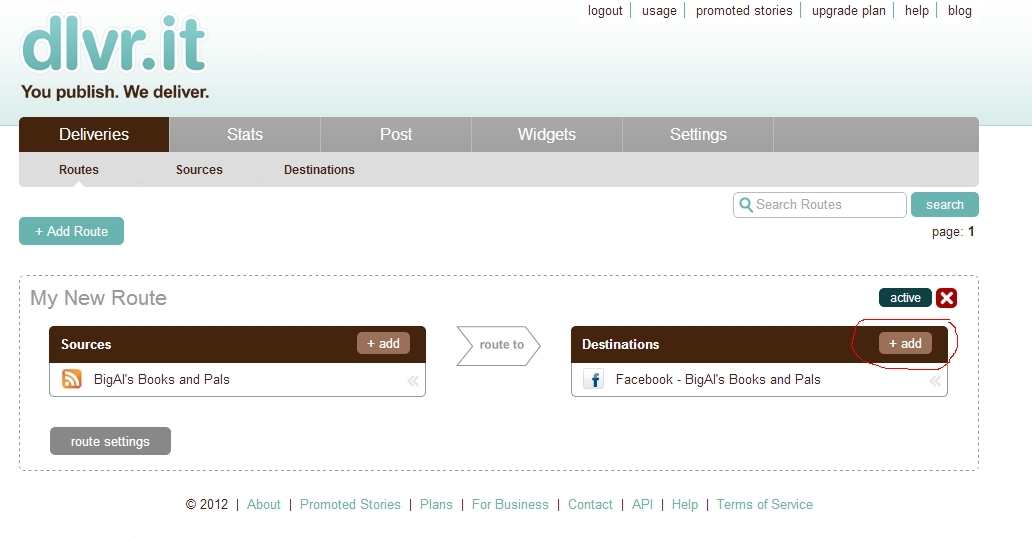 This is the main screen that shows you at a glance all of your sources (RSS feeds from multiple blogs) and destinations, thus far we only have one. If you hover over a source or destination you'll see icons displayed that can be used to deactivate, edit the settings, or delete a source or destination. There is also a route settings button that allows some customization of how a route (a feed from a source to one or more destinations) is processed. One of the route settings is which link shortener to use. The default is dlvr.it's own link shortener. We'll leave everything with the default settings. Among other things, the default setting tells dlvr.it to let Facebook choose which picture to use on the post using their default criteria.
Now we'll add a twitter destination. Click the "+ add" button in the destinations section to get started. You'll see this screen.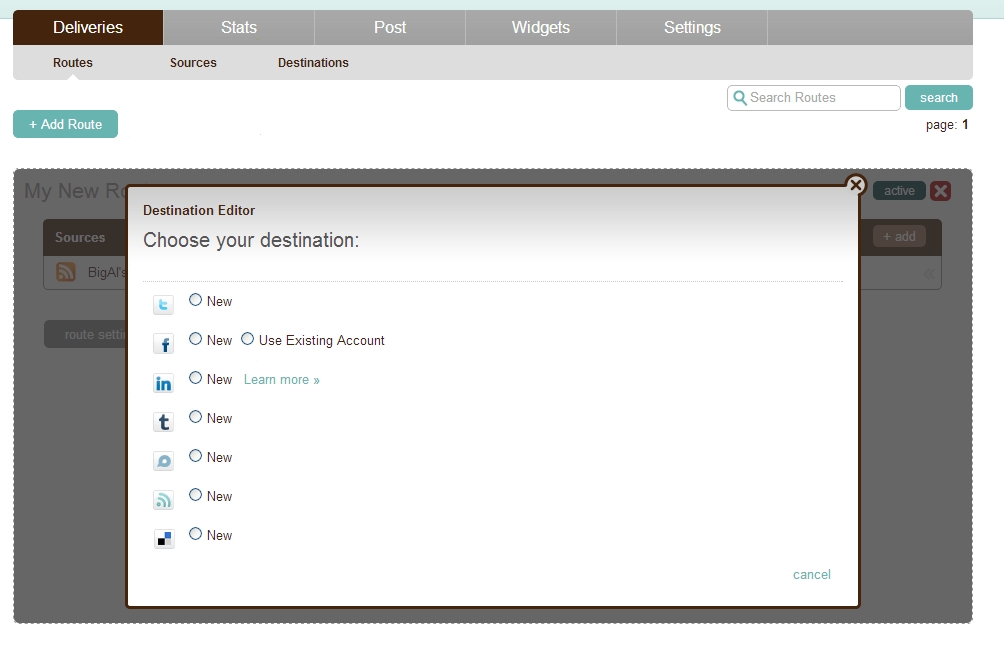 Choose the top choice for twitter and you'll be taken to this screen.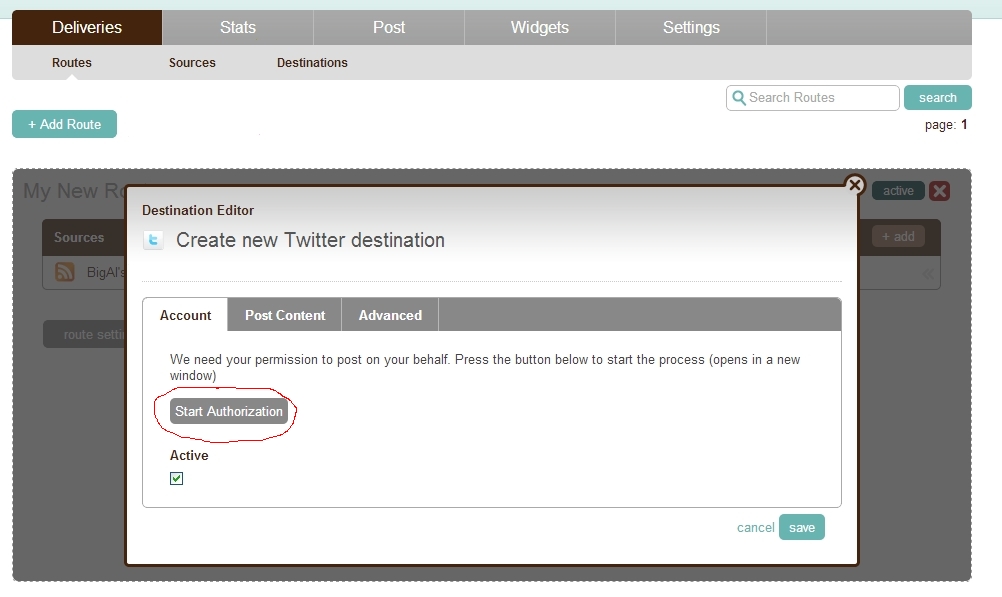 Click on the start authorization, which may ask you to sign-in to twitter, and will then ask you to authorize dlvr.it to access your twitter account by clicking the "authorize app" button. Once this is accomplished you'll be returned to the previous screen with the "authorize account" button changed to "account authorized." Clicking the save button will return you to the routes screen and you'll be set.
Poke around to get an idea of what things you can modify and additional things you can do with this tool. Possibly add hashtags to your tweets, automatically tweet when a friend posts to their blog (all it would take is adding another source and destination), or modifying the look of the tweet or Facebook post. Or you could add Linkedin as a destination.
Once I did the initial setup, dlvr.it has performed flawlessly with no need for constant attention. I never think about tweeting about a new post or sharing it to Facebook because it just happens. Now if I could only find a way to automate writing my blog posts, I'd be set.