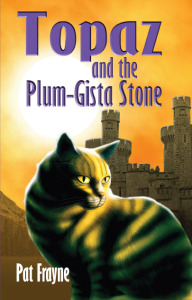 Today we have a sneak peek from author Pat Frayne's young adult fantasy book, Topaz and the Plum-Gista Stone (Book 2 of the Tales of Topaz the Yellow Conjure Cat):
Topaz and his raccoon friend, Dooley, face life-threatening dangers when they try to help an old friend. Circumstances beyond their control force them to travel to a forbidden land in search of a rare and precious stone. Terrifying events cause Topaz to wonder if his conjure powers will be enough to protect them as dark magical forces begin to close in.
Topaz and the Plum-Gista Stone is available from Amazon.com, Amazon UK, and Barnes & Noble.com.
And now, an excerpt from Topaz and the Plum-Gista Stone… Continue reading "Sneak Peek: Topaz and the Plum-Gista Stone"