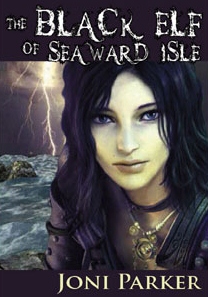 Today we have a sneak peek from author Joni Parker's epic fantasy novel: The Black Elf of Seaward Isle.
Seaward Isle, a place lost in time and space, has become a land where Elves, Dwarves and mortal time travelers mingle in a world filled with pirates, political intrigue and magic. Their fates rest in the hands on one young woman, the orphan Lady Alexin. Born of a mortal man, Count Dumwalt and his wife, the Titan/Elf, Alex finds that only she has the power to save them all.
The Black Elf of Seaward Isle is available from Amazon US, Amazon UK, Barnes & Noble, and Smashwords.
And now, an excerpt from The Black Elf of Seaward Isle… Continue reading "Sneak Peek: The Black Elf of Seaward Isle"