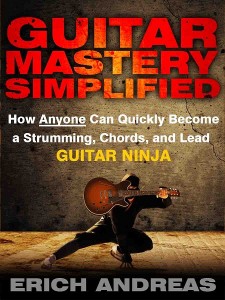 Author and guitar sage Erich Andreas is pleased to announce the release of his new music how-to book, Guitar Mastery Simplified.
Guitar Mastery Simplified: How Anyone Can Quickly Become a Strumming, Chords, and Lead Guitar Ninja, by Erich Andreas AKA Your Guitar Sage, is packed with the most important guitar lessons that will help you take your guitar playing ability to the highest level it has ever been! Erich has taught/played guitar professionally for almost 30 years.
The book can help readers fully understand guitar music theory while at the same time learn all the important guitar chords needed to become an advanced guitar "ninja". This book is for beginners to advanced guitar players.
Guitar Mastery Simplified was released on November 6, 2012 and has received 292 5-star reviews in less than two months. This book is available through Amazon.com and Amazon UK.
---