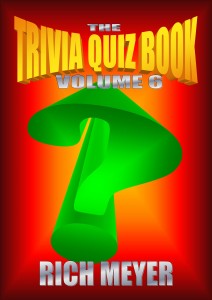 Author Rich Meyer is pleased to announce his new release, the Trivia Quiz Book Volume 6.
Here we go folks with another bout of family-friendly and fun-filled quizzing! 500 questions for all ages and all skill-levels from trivia neophyte to omniscient master. This time around, the questions fall into ten topics: Capital cities, famous quotes, Green Lantern and Green Arrow, Doc Savage, song lyrics, Jack Benny's radio show, The Andy Griffith Show, comedy albums, the comic strip Peanuts and Presidents of the United States.
The Trivia Quiz Book Volume 6 was self-published by Rich Meyer in November 2012. It is available from Amazon, Amazon UK and Smashwords. Learn more about author Rich Meyer at his Amazon author page.
---