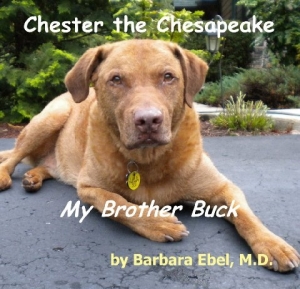 Author Barbara Ebel is pleased to announce the release of her new children's book, My Brother Buck.
Chester the Chesapeake Book Four: My Brother Buck, explores the complexities of a stray dog abandoned in Chester's neighborhood. Despite all attempts to find his owner, the dog is rendered homeless unless Chester and his family take him in. Through Chester's point of view, his wise nature, and the fabulous real pictures that the books are illustrated with, we learn just how unique the new dog is. But then again, as is the case with children and their parents, Chester and each of his dog brothers is unique and special in the eyes of their "Mom."
My Brother Buck was released on November 1, 2012 and is available through Amazon.com, Amazon UK, Kobo, and Barnes & Noble.
---