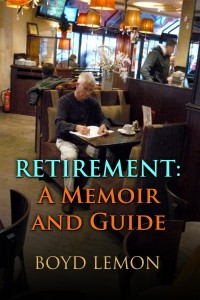 Author Boyd Lemon is pleased to announce the release of his new memoir and self-help book, Retirement: A Memoir and Guide.
This book shows you how to secure the best time of your life in Retirement. The author describes how he did it, and how you can do it too. Read how to take life more slowly, notice and revel in the beauty of the world around you, most important, how to find and pursue your passion and live fully. Married or single, discover how to avoid the loneliness or episodic depression that many retirees suffer from. Too much leisure time is often an expressway to boredom, frustration and unhappiness. The author tells you how to avoid this unhappiness through a few steps that anyone can take. Follow him as he faces his own worries and challenges about retirement and overcomes them to live it fully and happily.
Retirement: A Memoir and Guide was released on November 28, 2012 and is available through Amazon.com and Amazon UK.
---