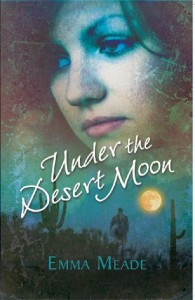 Today we have a sneak peek from author Emma Meade's new paranormal novel: Under the Desert Moon.
Seventeen-year-old Erin Harris spends her time daydreaming, hoping to escape her small town life in Copperfield, Arizona. When a movie crew arrives unexpectedly to shoot a vampire film over the summer, Erin's small town world changes forever. Erin is positive she has seen the star, James Linkin before in a thirty year old TV show. He hasn't aged a day. How is this possible? Erin is determined to find out, but how will James handle the scrutiny of an all too intelligent teenage girl?
Under the Desert Moon is available from Amazon US, Amazon UK, and Barnes and Noble.
And now, an excerpt from Under the Desert Moon: Continue reading "Sneak Peek: Under the Desert Moon"