It's that time of year…Christmas. You either love it or you hate it. Or you hate the toil and trouble, the trailing around the shops, trying to find something for Great-aunt Alice that isn't yet another pair of fluffy slippers or that she won't put in the drawer and try and remember to put on display every time you call round. It's all a mad silly rush and you vow, yet again, that you'll be more organised next year and start in May, roundabout when you're starting to think of your summer hols.
My recommendation? Well, aside from sorting dear old Alice out with a Kindle/ereader and a few respectable books (or grabbing a passport and escaping to Timbuktoo), let me suggest sitting down in a nice comfy armchair beside a pleasantly glowing fire with a cup of deliciously steaming-hot cocoa (or if it's after six, some mulled wine maybe?), and forget about the festive lunacy and escape for half an hour with a seasonal short story. It's safe, it's legal, it's cheap, (well, depending on the number of glasses of mulled wine you have), but more importantly, it's a tried and tested (by me) remedy to help prevent loss of sanity.
Two authors and four books spring to mind for this little home-grown cure.
Dennis Canfield has written two shorties: Silent Night: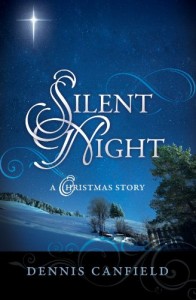 A Christmas Tale and South Pole Santa: Back to Christmas. They are poles apart (ha! did you see what I did there?), but both lovely tales. The former is an inspirational short story about a man who cannot understand the reasons for tragic loss and loses his faith in God. Certain events and a special person show him that anger for what he has lost is making him forget about the good in his life. See full review here.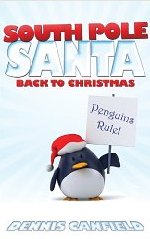 South Pole Santa is a truly delightful little tale about an elf, Marmel, who is very, very distressed. He fears Christmas will be wiped off the calendar forever if he cannot find someone to put on his naughty list. I loved this tale; therein lies a subtle, thought-provoking message. Marmel is only a little elf but brimming with personality, and there are some wonderful illustrations. See the full review here.
The other author is Nancy Warren who writes romance novels. Her two short stories are romantic/chick lit. Yes, they are schmaltzy and sugary and sweet, but so what? A guaranteed HEA ending is just what you want when you're frazzled. So let them be your guilty pleasure.
Border Collie Christmas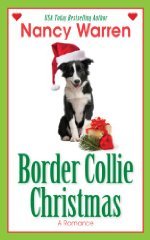 is about a four-legged, wet-nosed bundle of fur that brings together two people, both nursing broken hearts for different reasons. If you're anything like me, anything with a waggy-tailed hero has me smitten.  See full review here.
Nancy's second short story is The Christmas Grandma Ran Away From Home from. A grandma after my own heart downs tools after stuffing one turkey too many and flies off to nowhere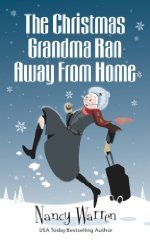 in particular for her own variety of seasonal entertainment and finds, yes, you've guessed, a little bit of romance.
These two (in fact, all four) short stories are quick to read and leave you with a warm and mushy 'aaah' feeling.
Now. You're all refreshed and raring to go. Go and finish that Christmas shopping.