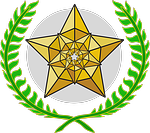 Come on, admit it – you have award envy. I mean, who wouldn't want to be able to describe him- or herself as an "award-winning author"? Why, it's almost as good as "bestselling author," and easier to achieve. All you have to do is win a contest. And there are a blue billion contests out there. One of those trophies must have your name on it already, right?
Not so fast. There are decent, well-run contests, and then there are people who want to part you from your hard-earned money without giving you much in return. Just like with everything else in this business, you should do your homework before you plunk down your money.
When you're perusing a writing contest listing, examine these things to make sure you're not getting fleeced:
1. The entry fee. Legitimate contests – i.e., the ones designed to help the winner, not just line the organizers' pockets – keep their entry fees low. They know writers don't make much money. If the fee is closer to $100 than to $10 or $20, steer clear.
2. The prize. Could be money, publication, or both. Sometimes it's a stipend and a residency. If the prize is a certificate and recognition at a glittering gala dinner, for which you have to pony up all expenses (including your own plate of rubber chicken), skip it. And if winners have to pay for their own certificates, etc., you can bet the organizers are in it for the cash.
3. The organizers. Look for names you trust – a magazine you've heard of (bonus points if you've actually read it), a well-regarded membership organization, a university. If you're not sure, google the name(s) of the organizer(s), coupled with the word "scam."
4. The judges. A legitimate contest will tell you upfront who's going to be judging your work. Sometimes it's an author you've heard of. Sometimes it's members of the organization. In the case of a literary magazine, usually the staff will judge the entries. If the organizers are calling for judges at the same time that they're calling for entries, that's a bad sign.
5. What they want from you. Some contests want paper copies and some will take an electronic submission; either one is fine. But if they ask for multiple copies of a dead-tree version of your book, be sure to factor the cost of buying and shipping those books into the total cost of your entry.
6. The deadlines. A for-profit contest organizer will be more likely to extend a deadline in order to make more…ahem, in order to improve the competition by allowing more time for people to enter.
7. What you get back at the end of it. If you're sending dead-tree materials, the rules ought to include information about what the organizers will do with your book after the contest is over. "Submissions will not be returned" is perfectly legitimate. But be sure to ask KS Brooks about the time she found her submission copies for sale at Amazon after one contest was over.
I know whereof I speak. In 2011, I entered my novel SwanSong in a contest which shall remain nameless. The entry fee was a steep $79. As the deadline approached, I was confident I would win – only three books were entered in my category and I was pretty sure mine was the best – but then the organizers extended the deadline by several months. I never learned who judged my book; I never received any feedback, other than being named a finalist. I didn't pony up for the glittering gala dinner with the B-list celebrity guest of honor (which was held at a community college a continent away from me), so I didn't receive a certificate; they would have been glad to send one to me afterward, but I'd have to pay for it. I also could have ordered "finalist" stickers for my books – or just lifted the graphic from their website and printed my own, I guess.
As you might have surmised by now, the experience left a bad taste in my mouth. I haven't entered a contest since. But if I did, I'd pick from the ones we mention here at Indies Unlimited periodically, or look for one from this list I found online.
Good luck, and may the best book win.