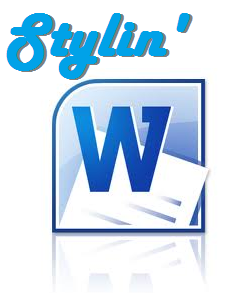 I know, I know, it's frightening – the "Styles" drop-down menu in Word 97/2003, and/or the string of needlessly colorful Styles on the ribbon in Word 2007/2010. But there's no need to avert your eyes. Believe it or not, not only can you tame the scary Styles beast, but you can make a Style of your very own. And it will help you!
Let's say you'd like for your first drafts to incorporate most of Mr. Coker's whiz-bang paragraph formatting right off the bat, because you're sick and tired of using the Nuclear Option to get your books through the Meatgrinder. You can create a Style that does that! Here's how:
1. Open a new document. On the ribbon,* you will likely see "Normal" selected. That's perfect; you want to build your new style on the Normal style anyway.
2. In Word 2007/2010, on the very bottom of the right-hand side of the Styles section of the ribbon, you will see a teeny arrow pointing southeast. Click that. It will bring up a floating dialog box that lists all of the Styles you could use in your document, if you wanted to.
3. At the bottom of that dialog box are three buttons. Find the New Style button – it's the one with a little yellow sun, or maybe it looks like a "hey presto!" design to you – and click it.
4. This brings up a dialog box called Create New Style from Formatting. Word helpfully gives your new style a dummy name like "Style 1," but you can change it to whatever you like. I've called mine "MS" for manuscript.
5. Style Type should say Paragraph; Style Based On should be Normal. Change "Style for following paragraph" to whatever you've named your new style – because you want every paragraph in your WIP to be in the same style, right?
6. Next, your font. Times New Roman 12-point is the default; change it if it offends you.
7. I have my MS style set to double-spaced, because I think it helps in editing and it's not that hard to change in the final draft.
8. Make sure the Add to Quick Style tick box is ticked and the Automatically Update tick box is not ticked.
9. Don't click OK yet. We still need to set up the paragraph indentation, because as we all know, Mr. Coker's Meatgrinder hates it, Precioussss, when we start a paragraph with a tab or a bunch of spaces. On the left side of the bottom of that dialog box is a button that says, "Format." Click that, and then click on "Paragraph" from the drop-down list. This brings up a brand-new dialog box.
10. Click the Indents and Spacing tab. Alignment should say Left; Outline Level should say Body Text. Leave the left and right indentation settings at 0", but under Special, pick "First-line indent" and set it to either 0.25" or 0.3". (Mine is set at 0.3", but Smashwords will accept either one.)
11. Spacing before and after should both be set at 0 pt; I've got the Line Spacing box set for Double. Leave the "At:" box blank.
12. Make sure the tick box next to "Don't add space between paragraphs of the same style" is not ticked. Click OK twice.
Now look at your Styles ribbon. Voila! Your new, personal style should be somewhere near the front of the line. (In older, non-ribbonized versions of Word, click the Styles drop-down arrow; your new style will be alphabetized in the list.) Whenever you start something new, just click on your personal style and all your paragraph formatting will be consistent.
Now that you've got the idea, you'll probably be able to think of other styles to create. For example, I made one for my chapter titles when I format my books for CreateSpace.
Yup, you're stylin' now!
*Note: For Windows 95-2003 users, go to Format – Styles and click New. This should give you the same Create New Style from Formatting box as in 2007/2010, so you can start with number 4 and go from there.