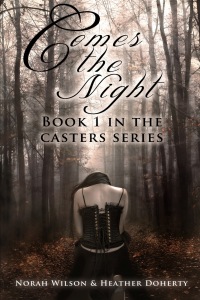 Author Norah Wilson is pleased to announce the release of her new young adult paranormal novel, Comes the Night.
Alex, Brooke and Maryanne are all students in their final year of high school at Streep Academy, a boarding school just short of juvie. Although they share a room, the three girls have nothing in common but their own soul-deep pain. But in the attic of their residence, they find the diary of young Connie Harvell, who was confined there decades ago. But in her desperation, a dark part of Connie found a way out of that attic prison, a way to escape her pain. After reading Connie's diary, God help them, the girls learn to do it too.
Comes the Night was released on November 27, 2012 and is currently available from Amazon.com, Amazon UK, and Smashwords.
---