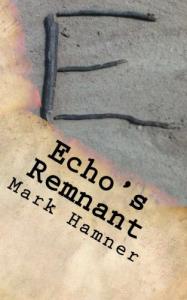 Today we have a sneak peek of author Mark Hamner's young-adult post-apocalyptic novel: Echo's Remnant.
250 years have passed since the events of the Dark Winter brought down society in a nightmare of chaos. Trinidad Shepherd considers himself an average "caver", having lived his entire life in Cave System Echo, one of several vast underground cities.
After a routine patrol, Trin and his crew find their home destroyed, their family and friends murdered. As the last remnant of Echo, the four friends must embark on a perilous journey to learn the identity and motives of the mysterious attackers. Along the way they will learn the terrible secret behind the true purpose of the cave systems.
Echo's Remnant is available through Amazon.com, Amazon UK, and Barnes & Noble. 
Here is an excerpt from Echo's Remnant…
To this point in his life, Trinidad Shepherd had never truly felt terror. He had been scared – he was scared as he held Matt's hand outside the east ramp of CS-E. He was scared as eight hungry coyotes pounced on his crew from a rock above – a rock he had failed to properly scout. And he was scared when the dying patroller from CS-B gripped his hand and issued a dire warning: "They knew. Exactly. Where. We. Would. Be." But he had never truly felt terror – the kind that causes your back to stiffen; the kind that causes you to instinctively hold your breath; the kind that leaves you in a state of fear-induced paralysis – unable to talk – unable to move. No, Trinidad Shepherd had never truly felt terror…until now.
As deafening explosions emanated from all directions, Trin noticed flashes of orange illuminating the desert sky. These flashes, which appeared to pop on all horizons, seemed to precede the ear-shattering concussions by a few seconds. The noise and the light, cresting over one another again and again in a strange symphony, froze Trin in place. He became acutely aware that he was holding his breath, and that his pack was still hanging from his right hand. His instinct was to check on his crew, but he couldn't bring himself to turn his head. Drawing on reserves of inner strength, he tried to force some semblance of logic into his being. Breathe, Trin. You have to breathe.
Before the CS-E leader could gather himself for action of any sort, the earth began to shake violently, echoing the ripple effects of the blasts still cascading from all horizons. Trin was thrown violently to the ground. As he landed flat on his back in the sand, he instinctively drew in a deep, gasping breath. On instinct, he began to clamber back to his feet, but a sharp pain radiating from the middle of his back ended the attempt.
"Landed on my sword," he muttered to himself.
Though unnerved by thoughts of the damage he may have done to his back, Trin was also grudgingly grateful for the pain that had prevented him from rising to his feet, where he almost certainly would have simply been thrown back down again by the continued tumult rocking the desert floor.
"Guys!" he called out, assuming the rest of his patrol had similarly been introduced to the sand. "Don't try and get up! We've got to just ride this out!"
Over the din of constant explosions, Trin heard his crew call our their replies.
"Got it!" Creed said.
"Understood!" There was Dalton.
And then…nothing. The explosions continued, but where was Cipher? Trin wondered if he had simply failed to hear her, but she was not someone who usually had problems making herself heard.
"Ciph?" Trin called out.
Still nothing.
"Cipher!"
No response.
"Karen!"
---