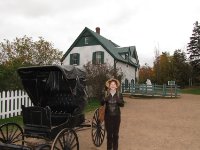 Jerrye Sumrall lives on the Eastern Shore of Mobile Bay with her husband. Formerly an elementary school teacher and counselor, she is now a full-time writer, homemaker, amateur photographer and office manager for she and her husband's business. She and her husband have traveled to many places in the United States and abroad. She has given you a glimpse into that part of her life through her personal website where she has combined her love of writing, traveling and photography. The new profile picture shows Jerrye at the Anne of Green Gables Farm in Cavendish, Prince Edward Island, Canada.
She has three books in her middle-grade mystery series, The Bayshore Mysteries. All three books, Intruders on Battleship Island, The Secret Graveyard and The Mystery of Wragg Swamp are available at Createspace and Amazon.com.
Jerrye says she never thought about writing mysteries as a child but knew she had a driving spirit of adventure and a fascination with the unknown. Whether it was watching horror flicks on television, reading Nancy Drew books or exploring her surroundings, the quest to solve a mystery was always there.
The Eastern Shore region of Mobile Bay, an area rich in Civil War history and small town culture, serves as a springboard for Jerrye's first book, Intruders on Battleship Island. The Beatrice and Monroeville, AL, setting, found in The Secret Graveyard, brings to life new mysteries and secrets from the past. Mobile, Al, with its festive Mardi Gras celebration and spooky swamp setting serve as the backdrop for The Mystery of Wragg Swamp.
Jerrye feels her choice of unusual settings, her years of teaching and working with kids, her use of historical fact, age appropriate mystery, and teaching lessons in friendship and courage has made The Bayshore Mysteries a unique mystery series.
*Learn more about Jerrye on her Amazon author page, her WordPress website http://jerrye35.wordpress.com/ and on her Facebook author page.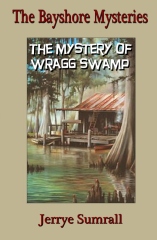 The Mystery of Wragg Swamp
by Jerrye Sumrall
Available in print from Amazon and CreateSpace.
Something strange is happening in Wragg Swamp!
First, the lights go out in the Mardi Gras float warehouse. Then mysterious sounds are heard. Next, an eerie cry is heard along the road to the float garage. Later, Jeff and his pals learn about a wild man in the swamp. Who is he and why does he live there? What truth do they learn about him? Could it be connected to the unexplained happenings around the float warehouse?
Amidst Mobile's festive Mardi Gras celebration, Jeff and his pals, along with an annoying girl named, Jessica, discover another mystery. A trip to an old warehouse in Wragg Swamp, a discovery in Uncle Ed's storage shed, a frightening storm, and getting lost and stranded in the swamp are all part of their dangerous venture. The lure of the swamp, and the strange man, lead Jeff and his pals on an unforgettable journey that reveals the truth and teaches them valuable lessons in friendship and courage.
The Mystery of Wragg Swamp is the third book in The Bayshore Mysteries. Be sure to watch for the fourth book in the series, Mystery on Mound Island.