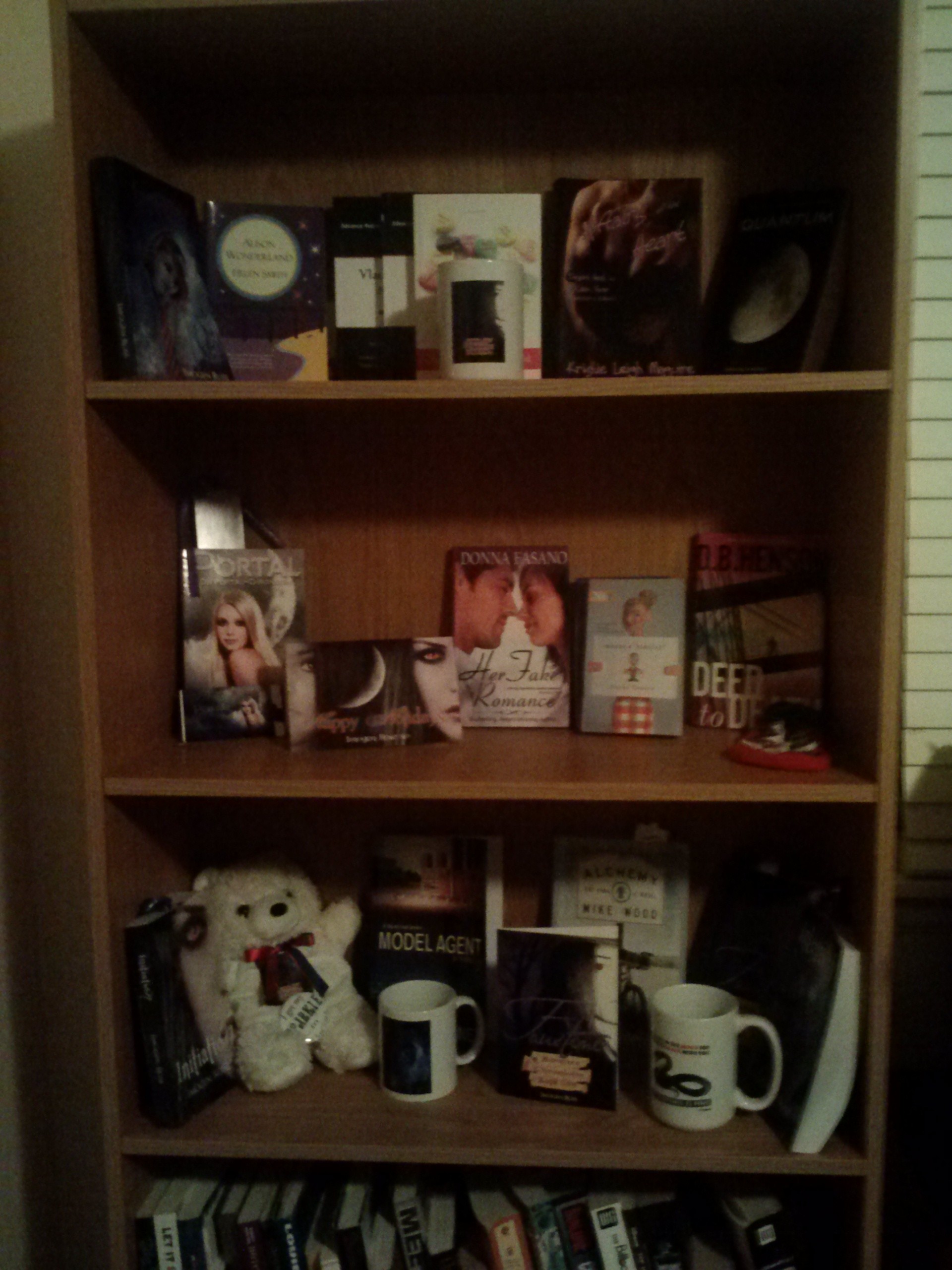 "Anyone know what book swag is? Anyone want to write a post about it?" asked Kat.
Behind the scenes at Indies Unlimited, while the Evil Mastermind is in his office plotting world domination (yes, he really does evilly mastermind), his co-conspirator, Kat Brooks, is out in the "bullpen," rousing, encouraging, and whipping the minions into shape with promises of extra gruel "sometime in the distant future." You older people (or young people who spend too much time watching old TV on cable) can imagine Kat as Mary Richards to Hise's Lou Grant. Having had a thing for Mary Tyler Moore since the days when she was shacked up with Rob Petrie, how could I resist? (Only the ancient or trivia buff Rich Meyer will get that reference.)
Jumping up and down like Arnold Horshack I scream, "Ooh-ooh-oooooh! Mr. Kot …" Umm. Let's try that again.
"Sure, I'll do it, Mary, I mean Kat"
In the interest of full disclosure, since I'm not an author, I've never had occasion to be on the author's side of the book swag question, but I've received more than my share. So we'll start with what it is.
The definition Google found that best fits is as slang or a synonym for "plunder, booty, prize, money, or valuables." Think of swag as branded doodads normally given away (although there is a possibility of selling them as well, those don't count as swag). At least on the surface, the main reason for swag is as a marketing tool, although its potential uses go beyond that. Typical examples are bookmarks, t-shirts, book bags, or coffee cups, with your book cover or a saying (maybe a character quote from your book that fans would understand and be able to explain to anyone asking). Among those of us who rarely read paper books any more, even a paper version of a book (especially if autographed by the author) falls into the category of swag. In fact, as you'll be able to see from the picture, that is the swag item that dominates the shelves in my library dedicated to display of my book swag.
I've seen swag used as a "thank you" to avid fans, beta readers, and others. Swag is often used in giveaways on blog tours, the author's Facebook page, or their own web site. For example Red Adept Publishing < http://redadeptpublishing.com/> (the small publishing house that also does editing and proofing services for Indies) typically has a giveaway on the blog tours for the books they publish. Prizes include Amazon gift certificates as well as "swag" that ranges from tote bags and t-shirts, to posters, mouse pads, and key chains, each displaying the book cover. Many of these swag items are also available in the Red Adept store on their website.
For an author's perspective, I went to author Imogen Rose, the Queen of Swag. Rose typically uses swag as a thank you to volunteer beta readers and others who help in the production of her books as well as in fan giveaways. For most items she uses either Zazzle < http://www.zazzle.com/ > or Cafepress, < http://www.cafepress.com/> both these companies produce items such as these in what is essentially a "print on demand" and provide an easy way to make them available for purchase them through your website. (You'll note that Red Adept and the IU Gear store also use Zazzle.) Rose says she has also used some "great sources" on Etsy who created a few limited edition items.
The question is, how does this fit in your bag of tricks as an author? Or does it? I think it depends. I've been a beta reader for several books (well into the double digits by now) and if I agree to beta read your book I'm not expecting anything except to get to be one of the first to read the book and to be appreciated for helping you. I don't expect swag or any other reward, but when I receive it, recognize it as one way for an author to show appreciation. As a "thank you," I think it depends on you, those you want to thank, and your budget. Necessary? Probably not. But something to consider.
The bigger question is whether it is a good marketing tool. I know many people who would not have been exposed to Rose's books otherwise have seen her book cover gracing a book bag trolling the grounds of Idaho State University on my daughter's shoulder. Rose's own daughter has spotted someone sporting a t-shirt with the cover of her first book, Portal, hundreds of miles from home. Rose says she doesn't know "if there are any financial returns, but it certainly does not hurt." She continues by saying that she knows she picks up "a lot of Facebook followers via giveaways, especially when bigger sites share them." If nothing else, it helps build buzz about your new book among existing and potential fans.
Probably the biggest argument for giving away a little swag isn't financial, but for reasons that can't be justified if viewed from a business perspective. (My apologies to Kristine Kathryn Rusch, but sometimes an author has to take off her business hat.) Imogen says her biggest reason for having swag giveaways is that she loves doing it. "It's so much fun being able to interact with my fans and enjoy their excitement. I think my swag-love stems from my deep love for Santa. Getting a gift is sooooooooooo awesome, and if I can be Santa for a second, and throw a little excitement and love out there, I grab at it." With an additional apology to Cyndi Lauper (when did I become so apologetic?), sometimes authors "just wanna have fun."