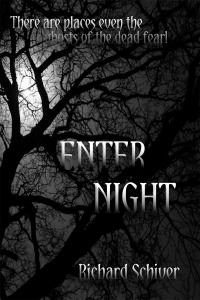 Author Richard Schiver is pleased to announce the release of his new horror novella, Enter Night.
A night of celebration turns to terror as six friends seek refuge in an abandoned farmhouse and come face to face with their worst nightmares. For there are places even the ghosts of the dead fear.
Where nightmares wander the hallways of our dreams, and not every story ends with a happily ever after.
Readers' Favorite book reviewers say: What makes "Enter Night" totally unique is the way the author gets his scare factor across without using blood and gore to do it.
Enter Night was released on December 15, 2012 by Abiss Books and is currently available from Amazon.com, Amazon UK, Smashwords, and other online retailers.