Indies Unlimited contributing author Chris James is pleased to announce the release of his new science fiction novel, The Second Internet Cafe, Part 2: The Cascade Annihilator.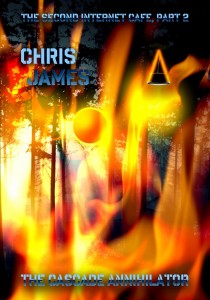 Dimension researcher Lucas Hunter returns to confront his nemesis, Dietrich, in an explosive showdown. But now Lucas's enemy is armed with the most devastating weapon imaginable.
In reality one, the Second Internet Café is itself under renewed threat. The return of Dietrich has given its enemies the means to see it closed down once and for all. From among its staff, senior analyst Paula Featherstone finds herself unwittingly thrown into the centre of the battle to keep control of the Second Internet Café. As danger of a military strike on Europe in our universe increases, Lucas jumps to an alternate 1988 to confront Dietrich. Back in the Second Internet Café, Paula and others struggle to keep the facility functioning so Lucas can return.
Lucas clashes with Dietrich in a devastating final battle, where he must defeat both Dietrich and the weapon that can destroy our universe: the cascade annihilator.
The Cascade Annihilator was released on February 15, 2013 and is currently available from Amazon US, Amazon UK, Smashwords, and in print from Lulu.
---