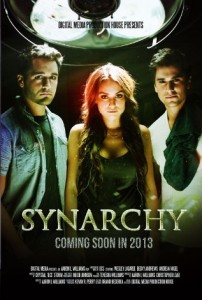 Congratulations to author Crystal Storm on having her science fiction Synarchy Series turned into a television/web series! The first episode should air in early March 2013.
Thirteen bloodlines, The Roshaniya, fanatically loyal to their gods – the Anunnaki –  have controlled the planet since history was written. In 1925 Stefano Vasco Terenzio, head of the Terenzio crime family, makes a deal with the Anunnaki to solidify his control over the American Mafia. Stefano's true goal was to put his family in a position so one day they would be able to turn on their masters.
But, what started out as an "ego trip" turned into a quest to give humanity a choice it has never been given. When allies become enemies, and the tenuous link holding together the one family that can save humankind shatters, can the Terenzios find the inner strength to finish what they started and expose the invisible chains that keep humanity down?
"I've always wanted to shoot something that talked about how the impossible is possible…" – Aaron Williams Producer/Director.
The first two books in the Synarchy Series are available from Amazon US, Amazon UK, and other online booksellers.
---