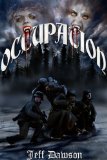 These are the vampires that filled many nightmares of old. Meet the Romanov and Boirarsky clans. They have waged a war amongst themselves for centuries over feeding rights and inconsequential issues. All of that changes when Adolf Hitler invades Poland in 1939. The Germans start shipping off their food supply to distant lands. The clans are forced to decide if they are going to continue with their fruitless battle, or combine their collective forces and take on an opponent worthy of their sharpened fangs: The Third Reich!
Vampires versus the Third Reich. Evil never tasted so good.
Occupation, the alternative history novel by Jeff Dawson, is available through Amazon.com and Amazon UK.

Don't forget, you can cast your vote for trailer of the month on February 23, 2013 at 5 p.m. Pacific time.
---