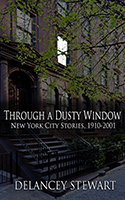 Today we have a sneak peek from author Delancey Stewart's  new collection of short stories, Through a Dusty Window.
Through a Dusty Window is a collection of ten short stories spanning a century of lives inhabiting one New York City brownstone on the Upper West Side. They are the culmination of the author's experience in that city, during which she wondered constantly who had occupied her apartment before her, and what stories they might have lived.
Ten vignettes offer historical perspective on real events from Prohibition to World War II; the Vietnam-era Summer of Sam killings to John Lennon's murder. Through a Dusty Window allows us to be voyeurs, seeing the fascinating lives of others as they experience the history that New Yorkers today hear whispers of around every corner.
Through a Dusty Window is available from Amazon.com and Amazon UK.
Here is an excerpt from Through a Dusty Window:  Continue reading "Sneak Peek: Through a Dusty Window"