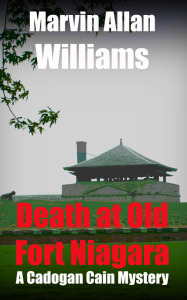 Today we have a sneak peek from the new suspense thriller by Marvin Allan Williams, Death at Old Fort Niagara.
In Death at Old Fort Niagara true fear is in the unexpected. It grips the heart of a man who thinks his past is behind him. It troubles the mind of a woman who has been living two lives, and it pounces on the innocence of a child at play. For Cadogan Cain, Angie Bianco, and a boy named Frankie, fear is hand delivered by a ghost of a man whose outward beauty hides a soul as black as coal.
Death at Old Fort Niagara is available from Amazon.com, Amazon UK and Barnes & Noble.
Here is an excerpt from Death at Old Fort Niagara: Continue reading "Sneak Peek: Death at Old Fort Niagara"