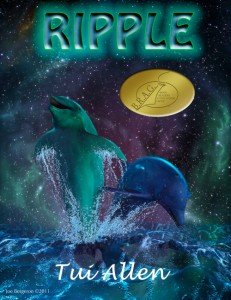 Today we have a sneak peek of author Tui Allen's metaphysical fiction novel: Ripple.
Twenty million years ago, powers of the universe allow an ancient spirit one final chance to achieve a mysterious intellectual purpose, by incarnating it as a dolphin on the planet Azure, (Earth.) The spirit is born as Ripple, a vulnerable female with a seeming tendency to insanity. She falls for the scarred fighter-dolphin Cosmo and love inspires her to achieve her purpose. But before she can communicate her discovery, she must overcome terrific odds among the terrors and tragedies of the ancient oceans. If she can succeed, the universe will change forever, and profoundly affect the yet-to-evolve human race.
Ripple is available through Amazon.com and Amazon UK. 
Here is an excerpt from Ripple… Continue reading "Sneak Peek: Ripple"