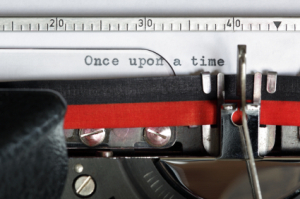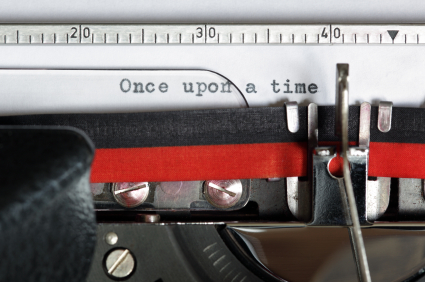 Crunch time in the marketing department. Only a week before the biggest trade show of the year and I was making sales literature for products that didn't exist yet. Everyone else had gone home. The factory workers left hours ago. During yet another trip to the copier in the engineering department, I stopped on the catwalk and leaned against the cool metal rail, listening to the sigh and wheeze of the ventilation required even when the assembly lines sat idle. Then I saw the forklift. A colleague and I had a running joke. When the job broke us, who would be the first to commandeer a forklift and race it across the factory floor? I didn't want to wait. I longed to climb into the cockpit and take the beast for a spin before crashing it through a plate glass wall.
And because of my secret identity as a writer, I didn't have to wait. It went into the novel. Everything goes into the novels, eventually.
The three hours I spent in synagogue, makeup, and pantyhose when a former boss performed her bat mitzvah via interpretive dance on a 95-degree day in a non-air-conditioned building that used to be the town flea market, while my husband fumed and sweated beside me on a metal folding chair? I'm sure I'll use that somewhere.
Totaling a rental car on my honeymoon and waiting forever in the parking lot of a cheap motel, watching hookers parade in and out while the proprietor charged us fifty cents per call to get the mess straightened out? That'll be in a book one day.
The stint I did as a correspondent for a local newspaper, forcing myself to stay awake through stultifyingly dull public meetings about zebra mussel infestation or whether some self-important alderman's property extended two inches past the zoned property line? I gave that to a character. Let her write the lead paragraph in her head while she races home to meet the midnight filing deadline.
The college roommate whose pet name for me was an ethnic slur, the boyfriend joined to his mother at the hip, the colleague who was mysteriously fired after one week when he was caught doing something no one would talk about? Oh, I intend to squeeze the juice out of each of these incidents for my fiction.
Seeking out adventure is wonderful. I'm not putting down writers who step off Main Street to find something to write about. But I don't have to run with the bulls or join the foreign legion or become a circus roustabout like Michelle Chalfoun to get material for my books. All I need to do is mine my own life experience. So can you.
I don't think any experience we have, as writers, is wasted. The next time you bemoan your crappy day jobs, your weird coworkers, your insufferable in-laws, or the number of times you've said, "You want fries with that," take a deep breath. It's all material.