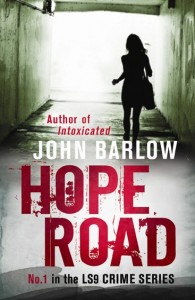 HOPE ROAD
by John Barlow
Genre: Crime thriller
Word count: 80,000
John Ray, son of crime boss Antonio 'Tony' Ray, is the straight one of the family. With a successful business and a lifestyle to match, he wants nothing to do with his father's criminal world. But what does that world want with him?
A young prostitute is found dead in John's car, and Freddy Metcalfe, his best friend and employee, is framed for her death. Freddy denies everything but it's an open and shut case: he's going down for murder. John sets out to find the real killer.
But things get complicated. A stash of counterfeit money was also found in John's car, and the police seem more interested in that than in the dead girl. Then Lanny Bride turns up; one of the north's most ruthless criminals (and an old friend of the Ray family), Lanny is desperate to know who killed the girl. But why? Meanwhile, Freddy is too scared to talk to anyone, even his lawyer.
John's girlfriend, Denise Danson, is a cop. She's been warned off the case by her bosses. But she doesn't believe Freddy is guilty, and secretly helps John look for the murderer. The problem, though, is that uncovering the shocking truth about the girl's death will force John to confront his own criminal past and risk destroying his future, as well as losing the only woman he's ever loved.
This title is available form Amazon US, Amazon UK, Smashwords, and Barnes and Noble.
John, how did you come up with the title for your book? Does it have any special meaning?
I went to the area of the city where the book is set. I wanted to soak up the atmosphere, to get a grip on the place. The street where we parked (I was with my dad) was perfect. When I saw the name of the street, HOPE ROAD, I knew I had the title for the book. That simple.
Who was your favorite character and why?
John Ray. Because in some ways he's like me (an outsider, a bon vivant, a loner) and in other ways he's all the things I wish I were (courageous, uncompromising, gallant…)!
Does your book have any underlying theme, message, or moral?
That life (and even crime) isn't about black and white. If you drag families into the mix, things get even more complicated (an uncle of mine was an arms dealer and thief, so I know about dodgy families…)
What would/could a reader or reviewer say about your writing that shows they "get" you as an author?
That I like sentences that are balanced and smooth and easy to read; that I'm as interested in the characters as I am in the drama.
Give us an excerpted quote from your favorite review of this book:
"…there's something beautifully cinematic about Barlow's writing, and Hope Road would make a superb film or television adaptation treated with the dark humour, impressive dialogue and lightness Barlow injects it with."
Where can people learn more about your writing?
www.johnbarlow.net