Today we're pleased to announce Robert K. Blechman as the winner of the Indies Unlimited weekly Flash Fiction competition.
The winning entry is rewarded with a special feature here today and a place in our collection of winners which will be published as an e-book at year end.
Congratulations to Robert, and thanks to everyone who participated – excellent entries! Now, without further ado, here's the winning entry: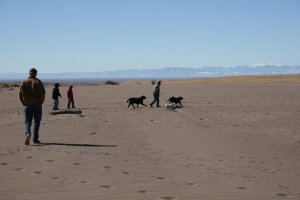 Death March
by Robert K. Blechman
It was turning out to be a dog day afternoon. All these years we had fed them, walked them, sheltered them, de-wormed them, not realizing they were the true overlords, playing mankind like a squeeze toy. Now they were in charge, herding their so-called masters where they willed, culling the weak from the strong, sheparding humanity according to their own designs.
I watched powerlessly as they marched Helena off to Dog knows what fate. Helena, heart of my heart, the only woman I had ever loved. Even when we were kids on the corner of the street, no matter how rough and ready things got I knew we would harmonize. Who could imagine our melody would turn into a howl?
Lad and Lassie, our twins, watched their mother depart, their eyes filling with tears. "What is it Dad?" Lassie asked. "Did Mommy fall into the well again?" I didn't have the heart to tell her that this time Mommy would not be saved.
Mankind might lie down, but we weren't out. Well, yes, we actually were out, put out into the backyard. That didn't matter. We wouldn't just roll over. If I had to become the alpha male, so be it. I would lead a resistance movement, even if I had to create one from scratch.
Defiantly, I whispered "Bad dog!" The dogs better watch their rears. Make no bones about it, Helena would be retrieved.