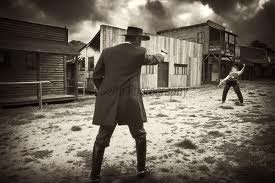 Two spaces or not two spaces? That is the question…
Right, time to get something straight. This whole two-spaces-after-a-full-stop thing needs a proper airing. After the comments that developed on this post by the lovely K. S. Brooks, I have to admit that I lost the plot (and not for the first time, as I'm sure my readers would agree). Fortunately, the Evil Mastermind had the good sense to chain my legs properly to the dungeon floor, and was kind enough to let me snack on a few of his beloved, prized piranhas while I calmed down enough to write this.
Some say that putting two spaces after a full stop is old-fashioned; that in this groovy, sexy, digital age, there can be no place for such "anachronisms". Some may even look down their noses at those of us who publish our work with two spaces after a full stop. Oh, really? Let me just rip the head off another piranha. There, that's better.
When I read, one part of my vision scans ahead to detect the next pause in the text – the end of the sentence. I read a lot of history, which can be very dry, academic text with page after page of solid paragraphs. Scanning ahead allows me to adjust my expectation of the volume of incoming information in a sentence: one simple clause, for impact; or many clauses conveying a complex event or idea. If the text is punctuated with only one space after a full stop, it's harder to do that. So it's harder for me to read the text and extract the information – as conveniently as possible – which the writer is attempting to convey from his/her head to mine.
In my own writing, anything that helps me to convey the story imagery and events that are in my head over to my reader's head as conveniently as possible is going to be used. Primarily I try to slot together sequences of the most appropriate English words as effectively as I can (doh!), but regarding formatting, any little trick to somehow improve the reader's reading experience is going to go in the book. And that's exactly what having two spaces after a full stop does.
Formatting is not writing; it has nothing to do with language use. So, when it comes to formatting one's own writing, one does not care for everything the "experts" say. Writing and publishing the best fiction novels I can write is my hobby, which I love like a hobby. And there's the rub: it's a hobby, not a professional occupation. Maybe – and it's a very big 'maybe' – if my novels were ever to gain any kind of traction, I might consider conforming them to what the "market" wants, but seeing as hell has yet to freeze over, I shall demur.
There, that's better. Anyone fancy a piranha?