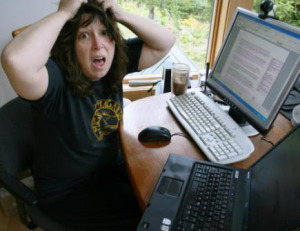 Novel Ideas for Novel Contests – or…what NOT to do when entering your manuscript in a novel-writing contest.
I've been a first-tier level judge for a prestigious novel-writing contest for about five years now. First-tier? Yeah, that means I'm important. Okay, maybe not. What it's supposed to mean is that at least one someone else has already read through the entries and has sent me the very best of those. Now I get the final word. Or something like that. Sounds important, anyway.
You can imagine, I'm sure, that this gives me a lot of material for a writing advice column. Yet, each year, how MUCH material I get out of the contest surprises and somewhat distresses me. When I judge, I'm filling out a form containing four categories: 1. Plot/Story; 2. Narrative/Dialogue; 3. Characters/Descriptions; and 4.Overall Impression. This year, I believe, an additional category should be added: 5. Formatting.
The first manuscript I reviewed used two spaces after every end-of-sentence period. The second one used five spaces to indent each paragraph. Those of us with any experience formatting eBooks knows what kinds of problems those are going to cause. I'm not going to detract points for those, but I am writing a note for the authors to make sure they realize their lives will be a LOT easier later if they start practicing good formatting habits now. I have a feeling the entrants believe a big publisher will discover them and do the formatting for them. What puzzles me, however, is that these two authors have not researched proper formatting techniques. As expressed in many posts before this one (by authors other than my curmudgeonly self), being an author isn't just about writing. It's also about being responsible for so much more than just the story: cover art, formatting, editing, writing sales blurbs, etc. Being educated about what lies ahead is imperative. It truly confounds me that people don't take the time to learn important aspects about an industry they want to compete in. It's just a matter of doing some homework, and anyone serious about being an author should grab that task by the horns. Anything less seems cavalier to me.
Okay, so there should also be a #6 – Synopses. So far, the ones I've read have been personal messages from the authors explaining why they wrote the books and how and why I should be fascinated. Huh? Dude…and/or Dudette – do yourself a favor and read something about how to write an actual synopsis. Seriously, this is the kind of thing that makes my brain hurt.
These first two entries were also riddled with ill-timed, unnecessary backstory and unrelated histories which interrupted the flow. What do I mean, you ask? Well, I'm glad you asked. I'll make up an example. Let's say the bagel a character is about to eat…is poisoned. We all know it. The suspense is building. He's about to take the first bite… Why disrupt the suspense with two paragraphs about the history of bagels? Huh? I don't care if they're boiled then baked…I only care if the dude is going to eat the poisoned bagel and what's going to happen next.  Oh, but wait…the dude is a shipbuilder? Well, good for him. No, I don't need to know, right now, about how his father and his father before him were shipbuilders and it runs in the family. Maybe you can tell me that later, when it actually impacts the story. Right now, I want the damn character to eat the damn poisoned bagel and drop dead. Scratch that. I want to eat the damn poisoned bagel so I don't have to read any more of the story.
This contest is not free. There is an entry fee. I don't see any of those funds, but that's not my point. The issue is that if people are paying to enter a contest…don't they want to win? Maybe I've just been in this industry too long now, or maybe I'm just a grumpy old curmudgeon (quite likely). It just seems to me not putting your best foot forward and paying money at the same time is synonymous with throwing money out the window. If you're going to do that, please let me know so I can stand under that window with a basket.