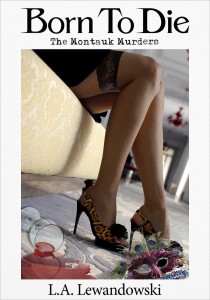 Today we get a sneak peek of author L.A. Lewandowski's murder mystery, Born to Die – The Montauk Murders:
Born to Die – The Montauk Murders is set amongst the glitz and glamour of the Beau Monde. The 80th birthday of Miranda Richards, an art-world icon, boasts the party of the summer at her exclusive mansion on Long Island. Old resentments and convoluted relationships bubble to the surface as an eclectic, A-list cast of characters celebrate at a Masked Ball. The luxurious trappings of success, however, don't hinder the agenda of an invited guest with a score to settle. Friends and family are left to wonder— Will I be next? Follow Detective Steele as he sifts through the evidence before the killer strikes again.
Born to Die – The Montauk Murders is available for Kindle on Amazon.com.
From Born to Die – The Montauk Murders:
Gianni Bruno was being difficult, something he excelled at, when necessary. He knew he could be a prick when he didn't get exactly what he wanted. He hadn't gotten to where he was in life by being a pushover or by compromising; rather, he was tough, street smart and relentless. And he wanted Chantal Stevens. Margo had still not confirmed that she was coming to Miranda's for the weekend and he was aggravated.
He refilled the heavy crystal tumbler with the single-malt scotch his valet kept out for him, added two ice cubes, and walked in his stocking feet to look at the view from his Manhattan penthouse.
He loved to look at New York, and from here he could see the Chrysler building. In his opinion, it was one of the most beautiful buildings in the city, a feminine structure in a masculine metropolis. Gianni had no doubt that New York City, if human, would be a man.
He took a mouthful of the luscious liquid, and enjoyed the warmth as it ran through his body. He pushed his hand through his still-thick, salt and pepper hair, and willed himself to calm down and think the situation through. There must be a way to seal this deal.
His was a life both ordered and indulgent. His tastes, honed over years of travel and self-education were impeccable. His requirements from his staff and servants were to 'not speak until spoken to', and to carry out all tasks meticulously. The demands of his various business interests required such attention, to every detail, and his upbringing and perfectionist personality also demanded it. The only area of his life that was not predictable of late was Margo. She wasn't coming through on her promise, and this was not acceptable. He would have Chantal!
He took another draw on the scotch and let his thoughts drift to the last time he had seen her. Ah, she was gorgeous; classy, well dressed, educated and sophisticated. He met her when Margo brought her to his business meeting in St. Barts. She had dressed and styled Margo for all the events, picking out every piece of every outfit, and Margo had never looked better.
Chantal had attended a number of the lunches and dinners, socializing effortlessly. He had watched her, trying to figure out her ethnicity: African with maybe some Mediterranean blood? Mixed with some English or Irish. Having been a language major in college at Rutgers, she also spoke French, Spanish and Italian, which he overheard as she conversed with some of his associates. She was a real class act. But he had always believed that all women were whores – or wanted to be.