We all know that marketing ourselves can be a real pain in the you-know-what. Some people love it and others wish they would never have to look at another Tweet. Anecdotal evidence here on Indies Unlimited has suggested that if you do nothing, your book sales will not slip.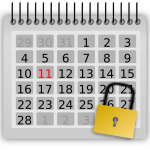 My belief is that if you have a strong platform and multiple books on the marketplace, then that might be true. However, if you are a new author or just have a single book out, then you had better find a way for people to find you.
Today, I'm sharing with you a simple method to make sense of all of this. We are going to put together an "Editorial Calendar" (fancy terminology adopted in the social media marketing business) to help you stay on track with your plan.
What this boils down to is a schedule for interacting with social media so that you don't end up spending countless hours in the cyber world. This is not designed to be a one-size fits all program. You need to put some thought into what you want to concentrate on, and then have a plan to follow. Trust me, if you know exactly what you're supposed to do today, before today starts, you'll have a lot more time for things like … writing.
The first thing you need to decide is which platforms you would like to concentrate on—Twitter, Facebook, Google+, Blog, YouTube, Foursquare, Pinterest, LinkedIn and so on and so on.
My suggestion—a minimum of Twitter, Facebook and Google+. If you want to know why I am a fan of Google+, see this article. You can make it with just a few platforms. I'm not saying the others aren't effective, I'm just trying to simplify this so that you can get some writing done.
The key now is to design a program that fits your needs and sometimes, budget. Most of what we do, we can do free. So let's put together a six month plan.
The first step is to establish your profiles in each platform. We're not going to spend time on that, all of us should have the basics in place. Today we're going to focus on five basics—Twitter, Facebook, Google+, LinkedIn and Blogs.
The "Editorial Calendar" that I use is broken down into weeks for the first three months, then basically, "repeat and rinse" for the last three months of the plan. So, hang on, here we go:
Week 1 – Set up Twitter, Facebook Page, Google+ Profile, LinkedIn and blog (a word about the blog later.)
The first month your goal is to get your name out. We aren't going to be pushing the book, we're going to be introducing you to your potential readers. How do we do that? How do we talk about our book without pushing our books?
Easy—your book is about something, whether it's fiction or nonfiction. Your novel might be set in baseball *wink, wink* or about someone with cystic fibrosis, or about flying, adoption, dual personalities or a host of other things. That is what you'll focus on.
In the second week, you'll set up a daily tweet about your subject. Tweetdeck or Hootsuite is great for that. In ten minutes, you can set up your tweets for the week. You'll post a story around the "subject" of your book on your Facebook Pages. With KS Brooks' new trick that she presented on Tuesday, you can schedule that as well.
Use the same story on Google+ and be sure to share the same with LinkedIn. Now you have four cylinders firing on the efforts of one story. I'm not going to get into the details of each platform, I'm sure you can find great articles throughout Indies Unlimited to help you along those lines. This is designed to help you develop a plan or schedule.
Let's talk blogging. We have some great bloggers here at Indies Unlimited. They maintain unbelievable blogs on top of what they do for IU. I don't know how they do it? You don't have to post daily in order to have a presence. John Locke, who has sold over 1 million books, blogs once per month — but his blog is well thought out and constructed for a specific target audience.
Regardless, blogging is important. That is where potential readers learn about your writing style and your expertise in the subject matter of your books. By week 3, make sure you establish blog and use it within the "schedule" of your marketing plan.
During Month 2, continue your brand development. You want to establish yourself as the "trusted advisor" in your arena. We still are not focusing on "selling" the book. You're selling yourself. If it is in your budget, you might want to add Facebook Ads into your plan. When I use Facebook Ads with clients, I don't sell their product or service, I run a "like" campaign to build the Facebook Page Likes. You can run a Facebook ad for as little as $30 – $35 and depending on the number of clicks, that could last you a month.
Month 2 is also where I initiate LinkedIn groups. Again, we could do a blog post on that alone, but this is not the forum for it today. Developing LinkedIn groups that relate to your craft and areas of interest (see baseball, cystic fibrosis, flying or whatever from above) will allow you to share your blogs and posts with like minded people.
Month 3 is where I initiate a call for action. This will be the first time you promote your book. You may want to shift your Facebook Ad to a book advertisement. You will continue your Twitter, Facebook, Google+ and LinkedIn campaigns.
From this point forward, you'll continue with the same basic campaign. By having a set schedule for marketing, you'll prevent yourself from spamming like crazy, retain your followers and get more likes!
Book-Author Editorial Calendar Social Media Marketing Timeline
You can find the template for this program in the PDF document above. Click the link to download your own copy of the Editorial Calendar. If you would like your own editable copy in Word, let me know in the comments section and I'll be happy to forward one to you.
Marketing your book is somewhat counter-intuitive. You feel like you want to go out and tell everyone about your book. For long-term success, patience is the key.