Today we're pleased to announce Renee Pierce Williams as the winner of the Indies Unlimited weekly Flash Fiction competition.
The winning entry is rewarded with a special feature here today and a place in our collection of winners which will be published as an e-book at year end.
Congratulations to Renee, and thanks to everyone who participated – excellent entries! Now, without further ado, here's the winning entry: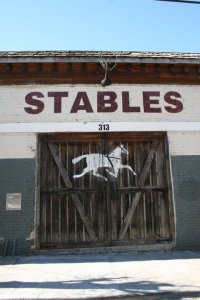 Forgiven Faults
by Renee Pierce Williams
This was Eddie's last chance to redeem himself amongst Vinnie and all the other members of organized crime. It was literally a matter of life and death, not only for Eddie, but for his other family members as well.
You see, Eddie's addiction to the track had him several hundred thousand in the hole. His only saving grace was Forgiven Faults, a young stud horse he and Vinnie had once partnered on after a big win in Saratoga. This horse was a high-stakes-racehorse-owner's dream, bred to the hilt, top and bottom; perfect confirmation, wide set eyes, large flared nostrils, and the will to win. A horse even Penny Tweedy Chenery would envy.
It was time. The two year old pranced his way down the thoroughfare with white in his eyes as he headed towards the starting gate. The bell rang and they were off! Eddie could feel the sweat in his palms as he clutched ticket number 313 Aunt Sadie unknowingly purchased. His heart was racing. It was as if he were on the back of that horse.
Forgiven Faults was off to a slow start. Careless Debt had taken the lead on the first turn by a head. Then, Guilty Pleasures came up on the inside in the second turn passing them both. Out of nowhere, it was Say Your Prayers in the lead. Then, Say Your Prayers and Forgiven Faults head to head. Eddie closed his eyes, took a deep breath and heard…Forgiven Faults by a nose!