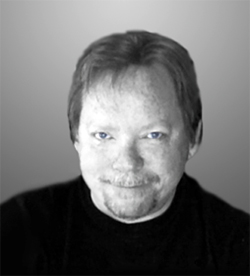 Welcome to The Learning Curve. I am chronicling my journey as a new writer in hopes of inspiring you to put that bag of chips down, step away from the television, and tell the world a good story.
Building Your Brand
Last month Jim Devitt told you the importance of using a single identifying image across your social media network. When someone sees your post on Twitter, Facebook, LinkedIn or your blog, they should immediately recognize that you are the one posting it, before they ever read a single word. That's good advice folks.
K.S. Brooks, Jim Devitt, and Jen Smith have written articles on the importance of using SEO (search engine optimization) and social media marketing. It's vital that a Google search not only returns your name or brand at the top of the page, but the majority of the search page belongs to you.
Let me give you an example. Go to Google and type in KD Rush. If your default search returns ten items at a time then you should see links that have something to do with me (my brand) on the next twenty pages or so. The articles that Devitt, Brooks, and Smith wrote will help you get there, so read them.
I've started building the brand before my first book is even published. Once it is, I'll make sure that the brand is proudly displayed. On the cover of every book, in a legible and bold font, will be KD Rush. I've made the decision beforehand that the title of the book comes in a distant third, preceded by the cover art and the brand. Why? Good question.
As an indie writer we must often do our own marketing. In my case, there isn't a backlog of books that I can draw upon to help sell a new creation. It's up to me to get the first book noticed. Me. My brand.
It's a fact that more people recognize my name, and remember it, than they do the name of my upcoming book. The first hundred sales of the book will be from people who know me from my blog, Twitter, Facebook, YouTube or here at Indies Unlimited. They will buy the book, I hope, because of me, not the book. At least that's the plan.
In a perfect world, the book would do all the selling for me. I'm not a sales guy, or at least a very good one. I tried selling vacuum cleaners once, but even my mother wouldn't buy one. You know you're in the wrong field if you can't sell something to your own family. The problem was not me. It was the brand. To be accurate, they knew I wanted to sell a vacuum cleaner to earn a commission, but the vacuum cleaner I was selling was a piece of garbage in their eyes. I learned two very important lessons from this experience. The first, never go into sales. The second, never associate your name with a crappy brand.
You can help your book sell if you can make it stand out on Amazon. There are dozens of titles on the eBooks page, and most of them have small graphics (105×160 pixels). Take a trip to the Kindle Store, look at the main category and then go to the Indie listings. Point out the first three books that catch your eye. Notice the cover art, title and the name of the author? If you can't read the title, authors name, or even tell what the cover is supposed to be, then you are probably not alone.
"Wow, that looks like an interesting book. I can't even tell what the title is or who wrote it. Let's open it up and see what it's about." Nope. It's just not going to happen. You have a chance to get your brand right before making mistakes like this. Don't waste it.
When you eventually see my books on Amazon you will know in one glance they were written by me. The name will stand out and the cover art will have something to do with the book. More importantly, it will make you want to click on it, if for no other reason than to see a larger image of it. Yes, I have high expectations for my cover artist. You should too.
All this is meaningless of course if the story doesn't hold up. It needs to be better than the cover, and your cover should be great! In the end though, if the story sucks the brand suffers. Bad for the book, worse for you if your name is the brand. How many people outside of your circle of friends would be willing to spend money on another creation if the first one is a poorly written, unedited disaster?
Consistency is one of the most important parts of branding. Nothing you do should detract from the brand you are trying to create. Remember the Coke and Pepsi marketing battles of the eighties? You can change a logo, a formula, or anything else about your brand if it's not working. When it is though, leave it alone.
I could list a dozen examples of popular celebrities that have screwed up their brand (Mel Gibson), but I won't name names. Just remember that your social interactions are part of your brand. You've probably heard the stories of an author getting into an argument with a book reviewer, and in turn, the rest of the community that read the book reviewer's blog. Don't be that person. Unless being an argumentative ass is part of your brand of course.
Here are some good branding articles that you may have missed. Check them out, and if you find any that are useful please let me know. I bookmarked these for a reason, and you probably should too.
Jim Devitt – An Analysis of Best Practices for Social Media Marketing
Jim Devitt – How To Let Others Know That You Are The Author
K.S. Brooks – Tuesday Tutorial: SEO Plug-Ins
Jen Smith – Tips for Better Google Search Results Using SEO Part 1  Part 2