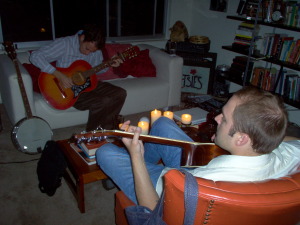 I write a lot of different kinds of things. I write marketing stuff, fiction, music. I think it would behoove us to focus on that last one for a second, though. One of the things I stressed the most about writing when I was teaching workshops was very simple: music.
Whether you are writing a song or not, you are writing music. Rhythm, assonance, alliteration…these are like the whipped cream on top of the writing cake. Writing is a very complicated proposition. You need to tell a story, but you want to "lull" the reader into the story…you don't want them to be aware that they are being told a story. So, you hypnotize.
How do you hypnotize? You do it with rhyme and feel and soul. Telling the story is half the battle. Telling the story in an engaging, pleasant way is pretty damn important. You know what I mean…there are writers who tell a good story and then there are writers who leave you in awe of their abilities with wordplay.
When I was teaching, I always stressed the idea that you have to paint with a very fine brush. Metaphors are great. Alliteration is great. Inside rhyme schemes are excellent…but, like so many things, moderation is the key.
You can just as easily bore and annoy a reader with too much flash as you can with a dull story that falls flat. You have to find the balance that works for you. I write some dark fiction. I also write silly poems for my daughter. I like to write music with my friend Pat. But it all comes from the same place.
Writers get very serious a lot. And that's a shame because writing is the ultimate play. You can do whatever you want! It's awesome…which is why we do it. It is pure fun that won't make you feel crappy the next day.
I don't remember his name, but, in college, I learned about a poet who wrote only in dots and dashes. I thought it was hackery then and I do now, but I get it. Rhythm. I just choose to use real words instead of symbols, but the idea is the same. Your writing, if musical, will resonate with readers. It's not neccesarily something you can force, but you can practice and get more natural with it.
That's my writing advice for the day. Don't listen to music when you write. Let the words make the music. Tell your story, but tell it like, well, a bard…a minstrel. Let your story sing and you have already won the battle.