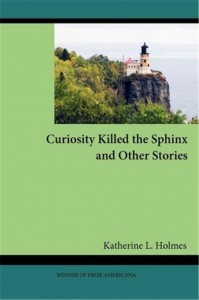 Today we have a sneak peek from author Katherine L. Holmes' short story collection, Curiosity Killed the Sphinx and Other Stories.
Curiosity Killed the Sphinx and Other Stories is a collection of short fiction exploring the complexities of life. Laying the profound beside the mundane, author Katherine L. Holmes creates rich and complicated characters who search for identity, meaning, and purpose within a world often dangerous and sometimes even cruel.
A couple clashing with early computers, a divorced woman finding her scattered family to be strangers, a girl running away to the shop where her parents' antiques were sold, Midwestern college students in weather and water emergencies – these are some of the conflicts examined by the author.
Curiosity Killed the Sphinx and Other Stories  is available on Amazon.com, Amazon UK, Barnes & Noble and other online booksellers.
Here is an excerpt from Curiosity Killed the Sphinx and Other Stories:
---
Happening like a computer crash, a severe one that requires an outside expert, the round of "I Know Something You Don't Know" abruptly ended. On a Sunday in January, Jill was on duty in the laboratory operator's room. Glenn was scheduled to start his shift when she was leaving, at three in the afternoon.
Jill hadn't seen Glenn for a week although he stayed at her parents' during Christmas break. He was unusually enthusiastic to spend time in rural bars with dartboards. Despite that, her mother was enthusiastic about him. When her mother had an opportunity to introduce Glenn, she groped for another term besides boyfriend.
Jill wasn't so quick to call Glenn perfect now. She predicted that he wouldn't even stop by her office before his shift. At her terminal, she listed a print-out of her own fortified, affordable baby food, to be picked up downstairs.
The metal door clicked and Jill jumped. Lately, she felt the way she did when a doctor called and asked for lab results in a leisurely voice, then backtracked and skipped around for results that lead up over many pages to the word expired.
Even though Glenn entered the bare room like a shaft of light, Jill felt reduced. She comprehended why so many nun-like women worked in medical areas.
He stood at her computer, reading her paper. "Do you want to set up a table for those figures?"
"No. I don't care," Jill said. "Have you read this?"
His broad smile hid his liabilities. His knowing something she didn't know, if he was still in love with her, was unnerving. She groped for his arm and cupped his elbow in her hand until he could feel the cold metal of her bangles.
Glenn kissed her and said, "I've got to get down to the computer."
"My mother called again. I've been wondering if she should keep referring to you as my boyfriend."
Glenn just teased. "I was looking for your high school boyfriend. I thought I heard her say something about him. Come downstairs after you're done?"
"I've got a print-out to pick up."
Jill shivered into the core of corridors where she imagined mummies were hidden. This was hardly the place to regain closeness with Glenn.
Glenn didn't even look up. "I've got to concentrate to get these game controls switched back. I think I found another ID for Ralph in here."
It was hardly the place, even to snack on the brownies she brought.
"This system is like a Swiss bank. Files stashed everywhere."
Absorbed with his partially-solved brainteaser, Glenn flipped from a page that looked like hieroglyphics to one that might be Cantonese or Greek. Such screens gave Jill a pang of panic.