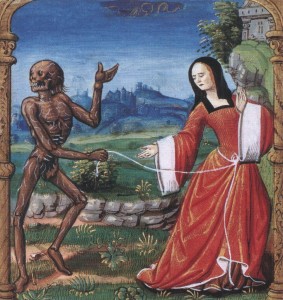 Have you ever had to pick out a casket for a loved one?
I have. This doubtful honor is a right of passage for many family members. The memory of this event is often surreal. Its grim reality weighs heavily on us, demanding stoic posture and the composure of a Vulcan. We fight to submerge the horror and the pain that goes along with it. If you are the one making the decisions, the needs of the living and the recently deceased outweigh the personal luxury of mourning.
For others, a staggering loss compels them to write, to record every vivid detail. They create a memoir of the event for their own release and to "entertain" others. This response confuses me and makes me wonder: is it because the words come easily to them, or is each one, as they are to me, a stiletto of exquisite pain they can somehow endure? What is the best medicine if your heart is an open wound? Is the exercise of recording such personal experiences viable as more than a personal exorcism? Will readers other than your friends and family care? Consider a scene in my own hell.
I arrive in the ice-covered parking lot at the same time as my brother. We run past hospital security and they know better than to stop us. The ICU floor is eerily quiet as we walk into the room that our mother has occupied for the last six weeks. I say simply, "Mom?" My father, softly crying, shakes his head "no." I look up to the monitor, I have no idea what it is for, and it is at 84. I know this is too low. The woman in the bed is a ghost of the beautiful, vivacious woman I had always admired. To her right is one of her sisters–the one who treated her cruelly after my grandmother's death six months earlier. My mother specifically did not wish to see her. I walk to the bed, lean down and hug my mother.
"You had a very rough time. I'm so sorry."
My dad says, "Let her go, nurse."
There is an odd, pale green fluorescent glow to the room. I look directly at my trespassing aunt, dismiss her, and turn to lean in the doorway. Behind the ICU counter, off to the side and standing alone, is her hematologist. "The arrogant little jerk, " as my dad called him. His face is etched plainly with the devastation of his failure. Two nurses behind the long row of monitors hug. A cascade of tears runs down Lisa's cheeks as she unplugs the orchestra of machines that have filled my mother's cell with their beeps and sighs.
I didn't cry for six months. My husband tried to talk to me. Finally, he said in frustration: "Lois, you don't need to climb a mountain like the Dalai Lama."
If you are still reading this, I'm impressed. This memory is mine, and those of you who don't know me have no reason to care. It doesn't hurt my feelings. It would be narcissistic of me to think my loss is any more painful than one you have suffered through yourself.
My question is, "why does anyone read a memoir that is full of such remembrances?" I certainly do not. Writing the above scene did not help me. It did not make me feel better. On the contrary, it made me quietly sad, the way I felt reading, "The Diary of Ann Frank." I whispered for days, treading in sock feet carefully in my attic bedroom. I have no desire to stir up such feelings. The experience of a mother's death is replayed in hospital rooms all over the world, over and over again, as the generations pass on. You will have your own death scene to witness. None of us escape.
I don't want to be depressed. If I need to see the sad state of the world I will turn on the evening news. I am not a Pollyanna, but my reading time is limited. I don't have the energy to read about death, destruction, and evil people. I suppose that is why I write stylish fiction. I will never describe a murder scene in one of my novels beyond the basic, required forensic details.
For me, there are a few exceptions to this rule. A memoir that recalls a cataclysmic, historical event is something I would read. There are also certain celebrities whom I find fascinating. (Not Snookie.) Their personal journey and style are interesting.
I started thinking about memoir after reading an article about the writer Mary McCarthy. Her memoir, "Memories of a Catholic School Girl" had come up in several different articles in the last couple of weeks. Her cutting and witty comment on the Dick Cavett Show about Lillian Hellman, " … I once said in an interview that every word she writes is a lie including 'and' and 'the'", intrigued me. Perhaps memoir is a genre that requires some of my time, even if a lot of it is lies as stated by Mary McCarthy.
There is something about the festive holiday season that can make us quite morbid. Thank you for staying to the end of my Danse Macabre. I promise my next post will be as bright and shiny as the ornaments on my Christmas tree.