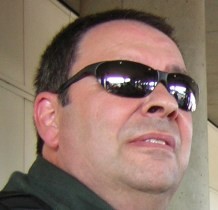 by Mike Markel
In my life as a college teacher (yes, I'm not ashamed to admit that I don't earn enough from writing detective novels to just write detective novels) we have this thing called course evaluations. You remember them: before grades are entered, students evaluate their courses and instructors.
Occasionally I get a bad review from the poor student. I understand the psychology at work: if a student is doing poorly in a course and is likely to get a D or an F, it's unlikely he or she is going to say, "Well, I was a poor student. I didn't study, didn't come to class, didn't write the papers. But I realize that the instructor seemed prepared, seemed to know what he was talking about, seemed to be fair in grading the papers. I can see now that it wasn't on him. It was all on me." No, I don't expect that kind of insight. A sinking student is not going down alone.
Which brings me to book reviews. All in all, my two detective books have gotten very positive reviews. (You're thinking, "Oh, my God, he isn't going to criticize his readers, is he? He can't be that stupid, can he?" My answers: "yes" and "apparently.")
Let me say, clearly and honestly, that I do realize that it is miraculous that more than a thousand people I literally do not know have bought my two books, read them, and taken the time to write thoughtful reviews. Really, why should they have done any of those things? I'm not talking about those people.
I'm talking about those few reviewers who don't feel any responsibility for doing any of the work involved in reading a book. They paid their $3.99–or they downloaded it for free–so they get to say whatever they want, even if it's deeply unsmart.
I'm not talking about this one guy who wrote that Big Sick Heart was very thought-provoking and it therefore bored him. The laugh was worth the two-star review.
I'm talking about the person who wrote that my book Deviations was poorly written because I called this character Nick for most of the book then started calling him Allan. Well, if this reader had paid attention on page 176, he would have known why Nick became Allan.
And I'm talking about the person who commented that I shouldn't be writing books because I don't even know grammar. She knows this because I write things like "Me and Ryan left the room," which is clearly a grammar error.
I should explain that my books are written in the first person, and that my narrator, Karen Seagate, makes three or four grammar mistakes repeatedly, whereas her partner, Ryan Miner, who is better educated, makes no grammar mistakes. In other words, I use speech patterns, among other techniques, to distinguish my characters.
Now, I can understand why a reader might not want to read a book narrated by a person who makes four or five grammar errors repeatedly, although that would mean there are a number of classic books, such as Adventures of Huckleberry Finn, that she wouldn't get to read. I'm not comparing myself to Twain; I'm just saying.
I do realize that there are many good reasons someone might not want to read my books. (Length restrictions prevent me from expanding on this idea.)
But can't I hold a reader responsible for realizing–by the end of a 212-page book–that every character in the book speaks differently, and that my narrator, a 42-year-old recovering alcoholic whose vague recollections about her college years centered on waking up, hung over, in a place she doesn't recognize might have problems with pronoun case?
Can't I hold a reader responsible for realizing that?
In preparing my third novel for publication, I have decided to send my grammar-challenged detective to a night-school remedial-grammar course. Because me just doesn't want to be criticized because her doesn't know grammar.
---
Mike Markel is the author of the two books in the Detectives Seagate and Miner series: Big Sick Heart and Deviations. Mike is also the Director of Technical Communication at Boise State University, where he teaches both undergraduate and graduate courses. The former editor of IEEE Transactions on Professional Communication, he is the author of numerous articles and six books about technical communication, including Ethics and Technical Communication: A Critique and Synthesis.