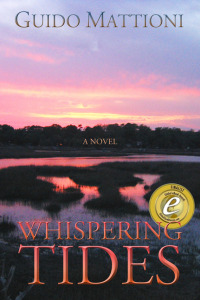 Author Guido Mattioni has lots of reasons to celebrate this holiday season. His novel, Whispering Tides, is a finalist in both the 2012 USA Book News Awards and the Global Ebook Awards.
When his beloved wife Nina suddenly dies – after 23 years of life together – Alberto Landi understands he has to leave Milan Italy, where he has always lived and worked. He leaves his friends, colleagues, a good job and the polluted big city he has never loved which has now become even more intolerable to him. He is fifty, he is totally alone and he is confused, but he definitely knows that he has to escape very far away, across the ocean, to the only place he and Nina had always loved together. He lands in Savannah, Georgia. There, in a natural paradise governed by the breath of the tides and with the help of many dear friends – colorful human characters as well as wise animals – he starts to rebuild his new life. His dream is coming true until the day he wakes up one morning and discovers that…
Whispering Tides is available at Amazon.com and Smashwords. To read a sneak peek of Whispering Tides, click here.
---