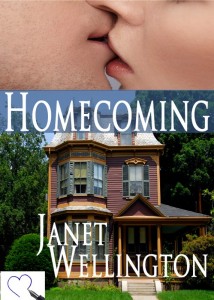 Homecoming
by Janet Wellington
Genre: romance
Word count: 62,285
Cory Wells-Richards left her cheating husband behind and headed straight back to tiny Faythe, Wisconsin, eager to create a new future for herself. First order of business, keep her promise to a dear friend and finish the renovation on the Victorian for dearly departed Tillie and find homes for her nine cats. How tough could that be? But when Tillie's great-nephew shows up to help, it's all she can do not to fall right back into his arms. She's been down that heartbreak road with him before, and coming off her recent divorce she's determined to guard her heart, no matter how sexy he looks with a hammer in his hand and his shirt off.
Jake is caught between a rock and a hard place. Well, between his party-hearty, successful big city life in Chicago and the sleepy hometown he was glad to see in his rearview mirror at the tender age of 18. He plans to fulfill his promise to Tillie and help restore her house to get it ready to sell, then return to his comfortable life in Chicago. But how is he supposed to get any work done with pretty little Cory around doing her best to drive him crazy? Being in Faythe rekindles all those long forgotten memories, some bad and some good–including his desire for Cory, the one girl he couldn't have.
This book is available from Amazon.
Janet, how did you come up with the title for your book? Does it have any special meaning? 
I like one-word titles, so was pleased with HOMECOMING. When I think about what happens to the main characters in this story, it really is about coming home–physically, sure, but also emotionally. Jake and Cory also redefine what home means–different now than when they first knew each other.
Who was your favorite character and why?
It's impossible to choose one favorite character…of course I love Aunt Tillie because she is at the heart of HOMECOMING. And, to me, the old Victorian house is also a beloved character–who is transformed right along with Jake and Cory! The cats were so much fun as well.
Does your book have any underlying theme, message, or moral? 
I've thought a lot about this–even looking at the early versions of this story–and I think, to me, it's about looking at the past, learning from it, but not allowing the past to dictate who you are. I think both Cory and Jake learn that from each other.
What would/could a reader or reviewer say about this book that shows they "get" you as an author? 
I love it when I get praise from someone who normally doesn't read romance, because the reader is basically saying "a good story is a good story." Perfect. If I can provide a fun read, a nice escape, well, I've done my job as a writer!
Give us an excerpted quote from your favorite review of this book: 
"The author gives what could have been a cliched storyline her own mark that made it fresh. She created fabulously flawed and likable characters that I really cared about."
Where can people learn more about your writing?
www.janetwellington.com