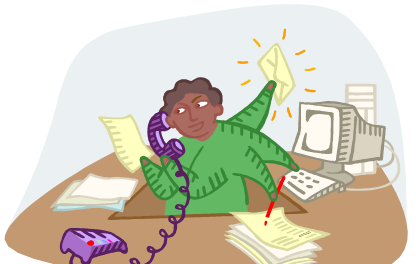 'Tis the season to be … driven to distraction?
Deck the halls, bake the goodies, shop 'til you drop, wrap the gifts, trim the tree, hang the stockings, light the Menorah (I know I may be a bit late with this one), sing in the choir … the list is endless.
Then there is the endless round of visiting, partying and social responsibilities. Even trickier is coordinating with family – who will be where, when? What will you bring? Who are you going to disappoint? Who will be hurt by the choices we are forced to make?
The other aspect of it all is that there is an expectation that we will always be happy, cheerful and full of optimism. 'Tis the season to be jolly, right? Is it any wonder that so many dread this time of year; that we feel an elevated level of anxiety and pressure along with the excitement and anticipation?
I know that I am far from immune to these feelings. I am 'driven to distraction' at this time of year and find that my fuse grows shorter and my productivity declines. Some things have to be set aside, some are forgotten, some are given a lick and a promise to do better later – if later comes at all.
But I am a writer. I have deadlines. I have a post due –when was that again? And if I don't get my head back into my work in progress I'll lose my thread, my flow. But that pie needs filling and I forgot to buy the Jello for the salad. Stop! I have a post to write. Yes, of course, where was I? Remind hubby to send that package. The deadline is this afternoon.
Oh, crap, I almost forgot the excerpt for the writers group tomorrow, 1000 words to send off. What's that smell? Oh, no, my cookies. Ack! Phew, they're salvageable, only a bit crisp on the edges. Now where did I put their pieces to critique? What time is it?
Back to the keyboard. Send off that piece. There, that's one bit done. I realize I am starving. I forgot lunch. What? Check email – 173 new ones, another two hours gone. That reminds me. I must wish my Facebook and Twitter friends happy holidays. There's that group on Facebook. Must congratulate on new five star review. Oops, I forgot to add potatoes to the shopping list. What? Is it dinner time already? Let's eat out; I didn't take any meat out of the freezer. Yes, I know we can't afford it but it can't be helped. Don't give me that look.
Now, where was I? Oh yeah, the post. Now I've forgotten what I was going to write about. And it was going to be a good one, too. Think, Yvonne. That blank screen isn't going to fill itself. Nope. It's gone. Where are those stockings? Did you remember to buy the candy to put in them?
What? What do mean they aren't coming? I made their favourite cookies. No, it's OK. I understand. New Year's Eve instead? I suppose that works.
Post. Back to the post. It's due tomorrow. Well, I guess this is it.
If this all has a familiar feel to it try to do what I do – remember last year and all the years before. It all came together in the end, didn't it? We remember those events fondly, don't we, for the most part at least? OK, there were a few bloopers, but most folks have forgotten them. And for those who refuse, ah, let it go. Breathe. Eat. Sleep. Forgive. And remember to smile. It makes everyone, even you, feel better.
Whatever your tradition this season, I hope it is a happy one filled with family, good food, and lots of love.
Oh, that's right. I have to actually post this now. I almost forgot. I'm still driven to distraction. 😀