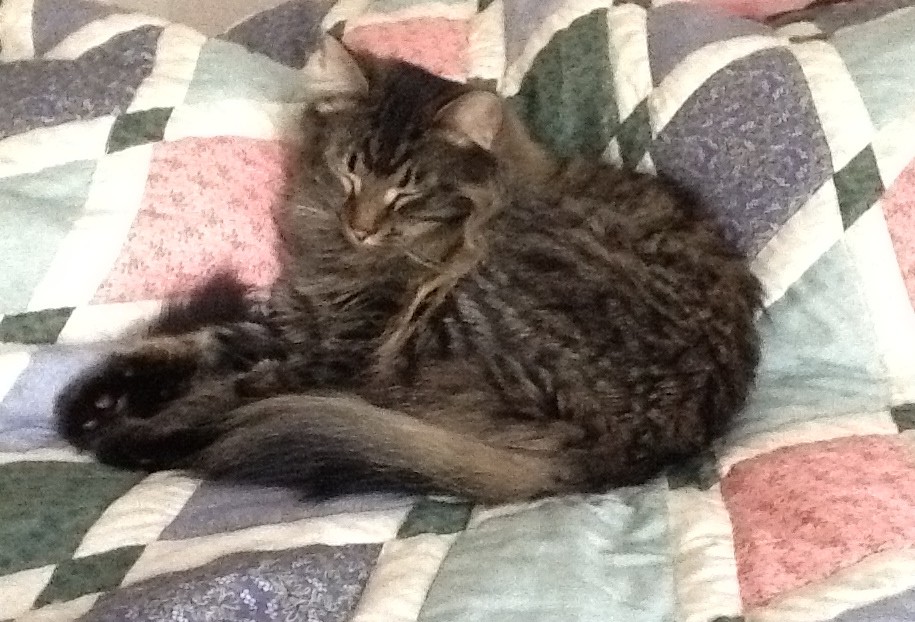 Two years ago, my aunt sewed me a quilt by hand for Christmas. She made me promise to use it and not just display it, so on cold nights, I crawl under it and am warmed by thoughts of the many, many evenings she spent piecing it together, how she designed it especially for me with geometric patterns and materials in my favorite colors and subtle outlines of kittens and puppies that can only be seen if you're close enough to wrap up in it.
In our circle of writers, we talk a lot about writing as a job that needs discipline and deadlines, and we judge our dedication by the number of words produced in a week. Commitments like these are necessary to keep moving ahead toward a goal (or an income), but I think it's important to remember that writing is also art. Even though art can often be functional and beautifully mass-produced on a schedule, it also has an element of elusiveness. There are stories that flow naturally from your soul, come together on their own, and feel perfect exactly the way they hit the page–so much so that you wonder if someone else wrote them. But there are also stories that get rewritten and cut up and dropped on the floor, only to be recovered and reorganized and reset until they end up as close to your heart as a hand-stitched quilt.
My current work in progress is in a file called "Start Over 26 December 2011". Start Over is not the name of the novel; it's a reference to the day I scrapped everything I had previously written about the group of people who have been living in my head since 2005. They have tried on several stories over the years and waited in the shadows while other characters were born and lived full lives, but they kept coming back, insisting they had something to say. It's been nearly a year since the latest start over, and I finally finished a readable draft, but there is still much work ahead. I've fretted about how long it is taking, and the amount of time wasted in research and reworks, and the danger of fiddling around with it forever trying to reach perfection. But then I re-read the opening that flowed out the day after Christmas, and those sections I'm still amazed that I wrote, and the parts with their healed-over stitches that I'm proud to have persevered to fix. And I realized that it has never been about unattainable perfection; it's about the story finally feeling right.
I have concluded more than once lately that I just work too slowly to ever make a living as a writer. But looking back a few months, I see that even though this particular piece of art has been elusive and on a schedule of its own, the by-products of working on it and planning for its completion have been more than I would have dreamed a year ago: being part of Indies Unlimited, publishing a book of short stories, outlining two follow-up novels, and a successful commitment to writing a piece per day for an event in October when just last April I was vomiting over a piece per month for IU.
So I guess my point is merely to say that when you're making your New Year's resolutions this year, under the one where you vow to write fifty thousand words by February, consider adding one that says: I will allow my pieces of art to become right, no matter how long it takes. Then curl up under a quilt with your computer and see what happens.