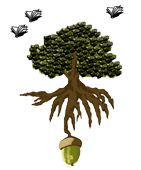 Kristina Jackson is the CEO and Queen Bee of Little Acorns Publishing Ltd. (LAP) She says, "While we have our grounding in a mix of paperback and eBook publishing, we are working towards more individually tailored marketing packages to give our authors best advantage. We also believe each author is an individual, working to ensure the contract meets their requirements as well as having flexible timescales."
Kristina established Little Acorns Publishing in May of 2012, but her company is already making good progress. "We have five paperback titles and seven eBook titles this year. Next year sees the increase of this to a further eleven titles."
LAP covers a broad range of genres, but is not interested in Zombies or books which contain excessive use of profanity or violence.
Because Kristina works with her authors to develop individual marketing strategy plans, she says it can be up to six months between having a book accepted and going to publication.
The buzz on LAP has been very positive. Kristina's authors love her and speak highly of their experience with LAP. Kristina believes in being accessible and responsive to her authors. She says, "Most of all we are friendly and approachable. Please feel free to chat things through with us."
Kristina, what common characteristics do you see in the books that move the best for you?
Catchy front covers and interesting blurbs.
What trends do you see happening now in the popularity of the various genres? The market place is a strange one. For example paranormal with sparkling vampires was the trend, now I have seen a trend back to the nastier blood-sucking sort. Although I think the books that are considered paranormal need breaking down a bit more, to allow other sorts to shine. Thrillers, YA and Erotica are still popular. But I am seeing a rise in both Historical and Contemporary fiction.
What do you think the future holds for print publishing?
I think we might see a rise in print publishing again. But the models will switch more towards print on demand rather than traditional model. It will in part depend on what happens with the free book scenario in Amazon.
People will pick up any book really that is free, I think this is now effecting overall sales on eBooks. Therefore the market that still prefers a traditional book will grow retrospectively. I don't foresee a time where print books are dead.
If the Big Six fail, what kinds of opportunities does that present for Indie Publishers?
I don't think it will necessarily provide Indie Publishers with many opportunities. Because I believe more people will go towards the self-publishing option. I think secretly most people who publish through an Indie Publisher do so with outside hope that it will be picked up by a bigger one. I think if anything it might make getting books into physical stores harder. Because bookshops will be looking to their bottom-lines more, without the draw of big names and big sales. Thus they will be more selective to whom they take on.
What are three things an author can do during the submissions process that get you interested?
1) Show passion
2) Tell us a little about themselves and what they want to achieve.
3) Wine – does that not count? For me personally a degree of eccentricity. I am after something different.
What are three things an author does during the submissions process that guarantees their rejection?
1) Use text speak!
2) Hassle me every day.
3) Show no passion.
What are the benefits of being with a publisher as opposed to being self-published? The main one is that you can have a professionally edited, formatted and covered book with no up front costs. Also with the right companies you can have the backup of advanced distribution through ISBN and printers. Allowing more exposure of your book. Marketing is another. Whether traditionally published or Indie Published an author is still expected to do a lot of promotion themselves, but a publisher can offer direction and do some of it too.
Do you scout for talent? If so, how? The business is too young to scout for talent yet. But I do work on personal recommendations.
Name something that sets your publishing company apart.
We believe each author is an individual and what suits one, does not suit another.
Why should an author sign with you?
Because I am lovely? Because I am eccentric? Those points aside. We offer a reasonable commission rate, fair marketing and flexible time scales. We also have advanced distribution through the ISBN agency and Lightning Source, making books more visible.
Learn more about Little Acorns Publishing at their website: http://www.littleacornspublishing.com