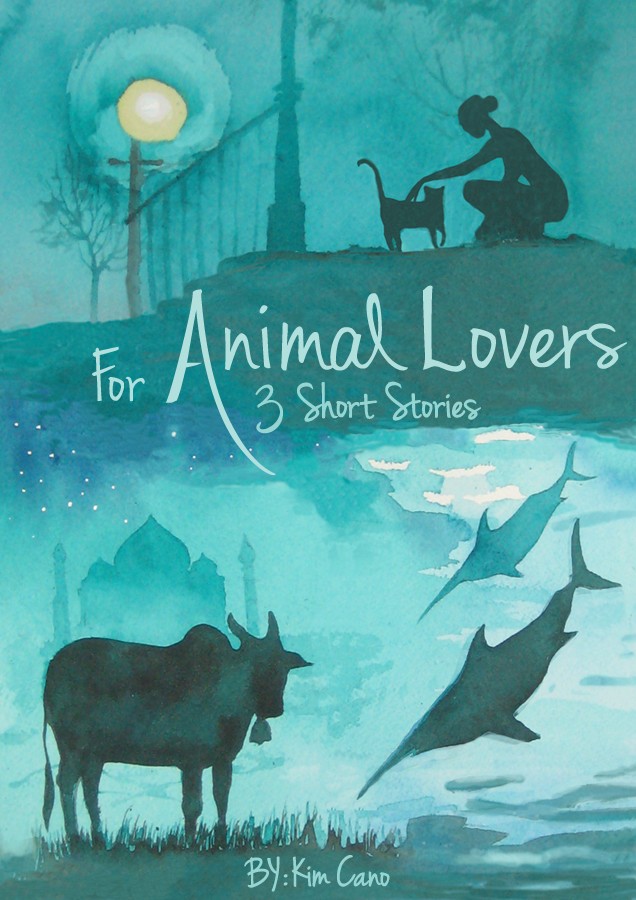 For Animal Lovers
by Kim Cano
Genre: Kids Short Stories
Word count: 8,355
For Animal Lovers is a heartwarming book for kids ages 9-12. Although mainly a short story collection for children, it also appeals to adult readers who are young at heart. Prepare to be transported into the world of each animal, as they tell their tale in their own words.
Best of all, 10% of the sale price is donated to the ASPCA® to help homeless pets!
"Becoming Sacred" – Charlie is a cow who lives on a farm, but plans to escape and move to India, fulfilling a promise he made to his late father.
"Pascal's Magic" – A classic cat story. Pascal is an adopted shelter cat who has been through a lot. Now with new owners, he finds he needs to work his special brand of magic to save his family.
"Abduction at Sea" – Alice is a special-needs swordfish who's obsessed with aliens. In order to be an independent gladiator of the sea, Alice has to learn to confront some of the greatest dangers the ocean has to offer.
This book is available through Amazon.
Kim, how did you come up with the title for your book? Does it have any special meaning?
Since the stories are told from the point of view of animals, I wanted the title to be direct and target readers of all ages who love animals.
Who was your favorite character and why?
Charlie the cow, because he follows his dreams at all costs.
Does your book have any underlying theme, message, or moral?
Yes. I want readers to rethink their perception of animals. And, if in the process another vegetarian is created, I would be thrilled!
What would/could a reader or reviewer say about this book that shows they "get" you as an author?
A reader could say that after reading For Animal Lovers they realized all creatures– big and small–have a life that they deserve to live.
Give us an excerpted quote from your favorite review of this book:
Heartwarming and creative stories that make you feel inspired, hopeful and touched by everyday human conditions through creative characters of animals. Strangely, I connected with each of the characters…
Where can people learn more about your writing?
www.kimcano.com