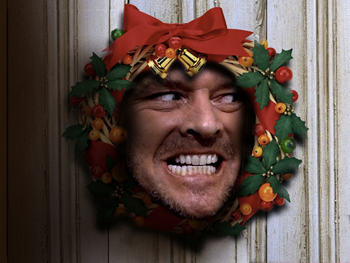 Welcome to The Learning Curve. This is where I chronicle my adventures as a new writer. The goal is to inspire you to put that bag of chips down, step away from the television, and tell the world a good story.
The Top 10 Christmas Gift Ideas (for the writer in your life)
My wife posed a simple question last month. It's the same one I hear every year. "What would you like for Christmas?" I gave the standard reply and thought that was the end of the discussion. It wasn't. She evidently doesn't believe I have everything I could possibly want or need because she's asked the same question almost every day since.
This is a technique that our teenagers taught her, and it's quite effective in driving me nuts. She knows that one of my pet peeves is redundancy. More accurately, I don't like to repeat myself. So after weeks of persistent pestering I promised to make her a list.
I finally sat down and came up with a list of things for her to choose from this past weekend. It occurred to me that many of these would be perfect for any writer. With that in mind, feel free to save this list and share it with friends and family for next year. Who knows? You might get lucky.
Gift Ideas (in no particular order)
1. Vegas Vacation – This is strictly for research purposes…for the book. There may not be a Vegas scene in the book at the moment, but that's because you probably don't have enough information to write one. With a long weekend jaunt to this amazing city I'm sure it would provide all the material needed. It would also be a good idea to invite some close friends on this research vacation. Interacting with them would help with writing group scenes.
2. Tickets to Comic Con and DragonCon – These people march to the beat of a different guitar. What better place is there to find inspiration for character creation for your stories? Yes, it's true that some of the costumes can be rather skimpy. Just promise your spouse that you will avert your eyes, or at the very least wear dark shades.
3. New laptop (Digital Storm X17E Gaming Laptop) – Considered one of the fastest laptops in the world, running at 4.5GHz with 32GB of RAM, you could write books on this for years to come. Don't let the 'gamer laptop' title throw you. I'm sure it does games very well, but that's not why you want it. It's the perfect writing tool. Just stick with that story. Act surprised when a few random games from an anonymous source show up under the tree for you.
4. Writers Retreat at the Stanley Hotel – Located in Estes Park, Colorado, this is the hotel made famous in The Shining by Stephen King. Try to book room #217 if you can. What else is there to say? Redrum.
5. Publicity – All writers like publicity, even the ones who won't admit it. You could buy a large ad in the local paper and push their latest books. Talking a local bookstore into letting them do book signings would be a huge gift. Publicity doesn't have to cost a lot of money. It's the thought that counts. Gifting their book(s) to friends would be a nice gesture. Getting their names tattooed on a visible part of your body would be the ultimate in publicity though.
6. New Zealand Vacation – Home to Middle-earth and the exciting J.R.R. Tolkien movies by Peter Jackson, the breathtaking scenery found here can only be described as inspirational. If the cost seems to be too much, then talk your spouse into saving money by purchasing a 65" television and the movies on DVD.
7. Amazon Gift Card – Nothing says I love you quite like a gift card for Amazon. Collect enough of these and you might be able to afford the Digital Storm X17E laptop. Then you will just have to wait for Amazon to carry it on their site.
8. Lottery Tickets – The struggling writers in your life will probably never hit it big, but they can they can fend off starvation with a lottery win. If you're lucky they may even take you to New Zealand or Vegas.
9. Exotic Sports Car – A Bugatti Veyron would be the ultimate gift, but a 600HP Dodge Viper would work as well. You may ask what this has to do with writing, and that's a good question. These cars are crowd magnets. Picture the writer pulling up at the local Barnes & Noble with a stack of his or her books in the front seat. Imagine how many could be sold at impromptu (and unofficial) book signings.
10. Support – All writers, published or aspiring, need the support of family and friends. An encouraging word and a hug can go a long way. Giving them the time they need to write and being understanding when they're 'in the zone' is a present you can give all year 'round.