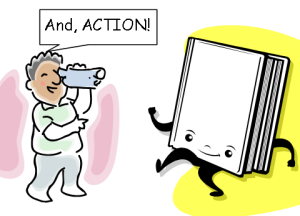 Starting in the new year, Indies Unlimited will be introducing "Friday Night at the Movies." Each week we will feature a different book trailer video on Friday night at 5 p.m. Pacific time.
Trailers will be featured once a week on Friday night. At the end of the month there will be a contest where people can vote for the "Video of the month." No cash. No prizes. It's all for the glory!
This is a great excuse for you to "rally the troops" and ask for votes – it's a gentle reminder to your posse about your book.
Here are the submissions guidelines, which can also be found on our submissions page:
The Video Trailer Feature requires a 100 word book description to accompany the video. Include a link to YouTube so we can obtain the necessary HTML code. You can see an example HERE. Authors submitting a Video Trailer will have that book showcased in the IU store for one year. These features require a purchase link for Amazon, Smashwords, Barnes and Noble or some other mainstream outlet. Please include at least one of these links with your query. Trailers should not have a run time in excess of 1:30 (90 seconds).